Delivering growth globally, digitally, and sustainably
In line with our commitment to an ambitious growth strategy, we further strengthened our line offering in the poultry, meat, and fish industries in 2021. We have increased our focus on digital solutions to support our goal of becoming a digital partner of choice for the food processing industry. By providing the digital products and platform for interconnectivity and optimization, we help our customers to sustainably maximize value creation.
Marel's strategic objective is to be a leading global provider of full-line processing solutions, services, and market-leading proprietary software for the poultry, meat, and fish industries. Through continuous research and development, as well as strategic partnerships and acquisitions, we aim to offer our customers modular building blocks for high-tech food processing, with our overarching digital solutions tying the entire value chain together.
Marel is fully committed to meeting its target of 12% average annual increase in revenues through a balanced mix of organic and acquired growth. We seek to stimulate and drive future organic growth through continued investment in innovation and acquisitions, coupled with strategic partnerships and digitalization.
To further support organic growth, we have increased our focus on investments in infrastructure and capital expenditures (CAPEX). Cash capital expenditures excluding R&D investments are expected to increase on average to 4-5% of revenues over the next four years, thereafter, returning to more normalized levels. These complementary investments strengthen our product portfolio and bring us closer to our goal of becoming a full-line provider across poultry, meat, and fish.
The market for food processing solutions, software and services for the three key proteins, poultry, meat, and fish, is expected to grow by 4-6% in the long-term. We believe the market growth will be at a level of 6-8% in the medium-term (2021-2026) due to catch-up effect from the past five years and a very strong tailwind in the market today accelerated by the pandemic.
With Marel's portfolio of solutions and services, we are uniquely positioned to curb and support the global macro-trends driving the demands from our customers—and their customers. The growth drivers in Marel's addressable market include continued focus on automation to combat labor shortages and increased costs, demand for flexibility to match changing consumer preferences with different products, and increased focus on sustainability where food safety, traceability, and the efficient use of resources are becoming key priorities. Marel's three strategic growth pillars: customer focus, best-in-class products and technology, and people and culture, address these drivers.
Customer focus is becoming increasingly important as consumers and customers become more demanding and require more agility. To address the growing demands for consumer-ready products, we have established a new business unit: Retail and Food Service Solutions. With customer focus in mind, Marel aims to be a reliable maintenance partner operating in the same time zone, culture, and language as our customers. We are furthermore focused on improved sales and service coverage as well as an effortless customer journey and best-in-class infrastructure to drive customer engagement.
Best-in-class products and technology
As drivers of growth, best-in-class products and technology go in line with Marel's strategy of being the leader in best-in-class high-quality equipment, lines, and digital solutions. These goals are achieved through investment in innovation and offering standard and modular building blocks with overarching software and a strong service model. Marel further aims to maintain close partnerships with customers, addressing opportunities with product development and strategic partnerships.
People and culture are the core of Marel as great talent drives our success. As this talent is in high demand, attraction and retention of employees is key. Marel's clear and compelling vision and purpose are significant factors as they resonate with both current and future employees. We are also taking systematic steps toward identification and development of future leaders for strategic roles across the business at the same time as we are developing high-performing teams by focusing on diversity, inclusion, and development opportunities.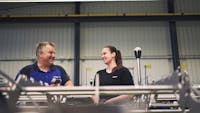 Strategic partnerships allow us to close application gaps in the value chain, increase our competitive advantage, and accelerate new development and speed to market. To ensure value creation through partnerships, we work with technical leaders, setting clear objectives for exchange of value that are beneficial for both parties. A great example of this is the strategic partnership with TOMRA and the development of Marel Spectra, a true game-changer in foreign material detection. This revolutionary solution will meet our customers' challenges head-on to deliver contamination-free, safe, and sustainable food.
As we increase focus and investment in digitalization, we form strategic partnerships with software companies that deliver groundbreaking solutions. This will accelerate our digital journey and deliver value to our customers. Our recent partnership with SafetyChain Software will provide customers with the industry's first fully integrated food safety and quality assurance solution for protein manufacturing that includes software for food safety, quality management, and supplier management. Together, SafetyChain and our Innova Food Processing Software will provide the best-in-class solution, with everything our customers need for full production control.
Acquisitions enhance our key strategic pillars and drive organic growth. Through acquisitions we can obtain better market reach and customer engagement and thus improve customer focus. Furthermore, as we strengthen our line offering and high-quality products, the transfer of technology and expertise across the key protein industries benefits product development across all three. Finally, with a shared vision and strategy we can enrich our people and culture.
We are committed to achieving our targeted average annual revenue growth of 5-7% through acquisitions in the period 2017-2026. Acquired growth is not expected to be linear but rather based on opportunities and economic fluctuations. To capture the full value of acquired companies, we've continued to professionalize our integration capabilities to tap into the strength of the combined entity
Proven track record in acquired growth
Marel has deployed over EUR 620 million in high-quality acquisitions since 2016 to supplement our full-line offering in poultry, meat, and fish and accelerate market penetration. Considerable investments in global reach and digital solutions, complemented by a proven track record in acquisitions and integration, strengthen Marel's position as an attractive partner in the ongoing consolidation wave within our industry.
Our local presence on every continent has been a differentiating factor as globalization increases and consumer trends change. This has been especially true in times of intensifying geopolitics and trade constraints, and even more so considering the challenges arising from travel restrictions and social distancing due to the pandemic.
With a low leverage ratio and committed liquidity, Marel has the financial strength to continue to support strategic actions in the ongoing consolidation wave, in line with company's growth strategy. In addition, our listing of shares in EUR on Euronext Amsterdam provides the platform and acquisition currency to pursue the 2017-2026 growth strategy. This makes Marel's shares an attractive currency in merger and acquisition (M&A) projects and enables sellers to take part in Marel's future growth journey as shareholders.
Acquisition target profile
When partnering with companies through acquisition, we look to add value by strengthening our line offering in poultry, meat, and fish, improving our high-quality product portfolio, expanding market reach, and obtaining better customer engagement as well as shared vision and values.
These companies are often second- and third-generation family-owned niche companies with revenues of EUR 30-200 million and around 100-800 employees, and/or companies where the founder is exiting. These companies are looking to future-proof their business or prepare for succession planning to ensure the best home for their legacy.
Acquisitions provide enhanced offering to customers and scale in Marel Fish
With the acquisition of Valka in 2021, Marel acquired a highly innovative player in the whitefish and salmon processing industries. Valka's annual revenue of about EUR 17 million also increased our scale in fish. The acquisition has been well received by key customers of both Valka and Marel.
Marel added further capabilities in 2021 through the acquisition of a 40% share in Stranda Prolog and by increasing our stake in Curio from 40% to 50%. In February 2022, Marel acquired the remaining 50% of the shares of Curio. Curio's leadership in the applications in filleting, heading, and skinning have filled important application gaps in Marel's primary fish processing offering. A good example of success for this acquisition is Brim's new whitefish processing facility, the most advanced facility of its kind in the world, with primary capabilities from Curio along with Marel processing solutions and software.
These recent acquisitions and investments, combined with Marel's Fish portfolio, strengthen our offering to customers, innovation capabilities, and scale in fish significantly. They are therefore expected to contribute to the margin expansion targeted by management.
PMJ acquisition in 2021 already resulting in improved customer experience
The acquisition of Poultry Machinery Joosten (PMJ) in 2021 positioned Marel as the only provider of full-line solutions for duck processing globally. At the time of acquisition, PMJ had about 40 employees and its annual revenues were around EUR 5 million. The acquisition is already a success with our customers. For example, the integrated teams of PMJ and Marel made an important sale in the summer of 2021, when a duck evisceration line was sold to a customer in Russia.
The global duck market is a large and growing market. The value of the global market for duck meat is estimated to be around EUR 6 billion. The annual volume of the duck meat market is currently 4.5 million tons, with 70% of this volume in China, where Marel already has an established presence. PMJ has built long-standing relationships with many of the largest duck processors in the world, and together with Marel's global sales and service network and digital platforms, the companies will extend their global reach and strengthen customer support.
Bas van der Veldt, Director of Duck Processing, noted when the sale was announced: "The added value of the Marel-PMJ collaboration in this project brings more than the sum of its parts. The 1+1=3 symbiosis means that we can now jointly offer solutions that Marel and PMJ did not have individually in the past."
Acquisitions and investment in innovative companies support digital journey
In Q4 2021, Worximity, where Marel holds 25%, raised CAD 9.7 million in new share capital. Marel invested CAD 2.5 million, maintaining its 25% ownership. Worximity continues to develop and market innovative and scalable SaaS solutions to food processors with low barriers to implement.
In 2019, Marel acquired Cedar Creek Company, a leading provider of software solutions to the meat, poultry, and seafood industries in Australia and New Zealand. The company consisted of about 20 employees, with a head office in Brisbane in Australia and a support office in Auckland in New Zealand. The acquisition increased software capabilities and the offering is complementary to Marel's software solutions.
TREIF and PMJ integrations close to completion
In 2021, Marel focused on integrating TREIF and PMJ to make them an integral part of the organization. After a planning phase, the combined integration teams, from Marel and acquired company, work on the various aspects of the integrations, aiming to get to a situation where the organization can run in a connected, integrated way for our customers. Both integrations are now almost complete and transfer to business-as-usual early 2022.
New acquisitions also enable Marel to rethink the organization and optimize the structure due to changes in scale and new or strengthened capabilities from the acquisition. In the establishing of Retail and Food Service Solutions, the TREIF acquisition is an important component, creating a combined capability on cutting solutions that can benefit across all three key protein industries.
Each acquisition process includes an integration strategy, often created before final bidding and adjusted after the acquisition closing, which identifies where the acquisition will best fit in the Marel organization. This integration strategy also highlights what opportunities for organizational simplification can be captured and when these improvements can be incorporated.
Integration to enable continued growth
Previous integrations have shown that the acquired companies are able to continue their growth journey because of their integration with Marel. They can leverage the worldwide sales and service network, which creates more opportunities and higher-margin revenues.
The added portfolio also strengthens the overall value proposition, which provides Marel with more opportunities to provide the best solutions to our combined customers. It also shows customers that we can provide full solutions based on strong individual building blocks and understand their processes. In the TREIF integration this has led to examples of new customers being introduced to TREIF equipment, but also a significant order for Marel equipment to be added to a 'TREIF order' in discussions around a specific TREIF value proposition.
The enabling systems that are implemented in the integration process are a catalyst for our customer facing processes. It also professionalizes the acquired organization to deal with the increased complexity in a growing organization. This allows us to work closely together and finalize integration steps in the background.