Marel is a pure-play supplier of advanced and high-end processing equipment, full-line solutions, software, and services focused on the poultry, meat, and fish industries. Our business model is robust, supporting a healthy business and geographical mix throughout the industries.
Balanced and resilient business model
Marel's business model is based on providing full-line solutions and services to the food processing industry, one of the most important value chains in the world. With an emphasis on innovation, close partnership with customers, and global and local reach, this model supports our vision of a world where quality food is produced sustainably and affordably.
Our revenue streams consist of sales of standard equipment, major projects, and recurring sales of parts, services, and software licenses. We have a global customer base diversified across different industries, product mixes, and geographical areas, allowing us to achieve and maintain strong profitability throughout economic cycles.
Marel is a one-stop shop for food processors, with a broad full-line offering of food processing equipment and software across the value chain. Our business model centered on being a full-line supplier enhances our ability to improve automation, throughput, yield, traceability, and sustainability for our customers.
Serving the poultry, meat, and fish industries
Marel's presence across geographies and in multiple protein industries optimally positions us to transfer technical knowhow, solutions, and expertise across industries—and geographies. We build upon technological advances we have made in one industry by implementing them in another. Additionally, this balance across industries reduces reliance on single industries and markets.
Standard and modular building blocks
Marel's full-line approach is based on modular building blocks and standard equipment, enabling the most flexible and resilient set-up possible. This approach also makes equipment easy and fast to install, upgrade, and service. For Marel this increases operational efficiency and time to market, and for our customers this makes the overall experience more seamless.
Market-leading proprietary software
From the very beginning of Marel, we have software-enabled our equipment to serve our ambition of increasing yield, throughput, safety, and sustainability. Our proprietary software, Innova Food Processing Software, provides installations worldwide with comprehensive device control and efficient factory and process management. Additionally, our software and data-driven insights enable us to provide predictive maintenance, better instant and remote services, and many more future customer application use-cases.
Global reach, local presence
We serve companies ranging from the largest international food processing leaders to local niche producers in more than 140 countries, through a dedicated global team of more than 7,000 employees in more than 30 countries. In 2019, we started a program to strengthen our local presence around the globe, defined by six key regions. This global reach has proven to be instrumental to our resilience and ability to engage with, service, and support our customers during the pandemic.
We focus our efforts on three main industries: poultry, meat, and fish. We provide software, machinery, systems, and solutions that help food processors in these industries gain a competitive advantage and make the most of cutting-edge technology such as digitalization, automation, and robotics.
Mixed revenue streams drive resilience and synergies
Marel's presence across geographies and multiple protein segments reduces cyclicality and exposure to market demand fluctuations. Similarly, no customer contributes to more than 5% of annual revenues.
Revenues per industry
Revenues by geography
Revenues by business mix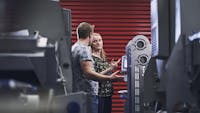 Innovating with our customers
Marel's customers include some of the world's leading poultry, meat, and fish processors, and our strong brand and unique product and service offering have underpinned customer loyalty to our solutions. Our long-standing partnerships are solid, built on teamwork and common goals across industries and borders.
In unity with our customers, we push the boundaries of new food processing equipment, digital solutions, and services. From idea to prototype, we're proud to work with pioneering food processors who are willing to test and co-create new equipment and new ideas inside their own plants and at Marel's demo centers.
Our approach is to build and maintain long-term relationships with our customers, with the objective of becoming a service and maintenance partner after initial engagement. This way, we can increase the value contribution throughout the life cycle of our solutions and services—creating value for our customers and our company.
We support our customers in various projects and solution types, be it turnkey projects (both brownfield and greenfield), line solutions, digital solutions and services, modernizations, standard equipment, services, or spare parts.
Within each engagement, we strive to supply standard equipment, modular building blocks, and digital solutions to optimize efficiency for our customers and for Marel. The figure below is illustrative for the types of revenues generated throughout a 10-year customer engagement with a greenfield plant lens applied.
The customer invests in initial equipment and services.
The customer uses our digital solutions as a service to constantly optimize performance.
Additional investments, which usually include capacity extensions or added processing capabilities, take place throughout the relationship.
Aftermarket revenues from spare parts and service begin around year three.