Marel is a leading global provider of advanced processing equipment, systems, software, and services focused on the poultry, meat, and fish industries. Customers are increasingly calling for more automation and agility in their operations to support shifting market channels and sustainable processing. In partnership with our customers, we innovate products that set new benchmarks in food processing solutions, enabling processors to increase yield and throughput, ensure food safety and traceability, and improve sustainability in food production.
Sizeable and attractive end markets
Marel operates in a large market with good long-term growth prospects based on increasing population, urbanization, and a growing middle class.
The commercial value of the global poultry, meat, and fish market is currently estimated at around EUR 1,200-1,300 billion. It is expected to grow 2-3% annually in the long term due to ongoing shifts in consumer behavior and demand across market channels such as e-commerce, foodservice, and traditional supermarkets.
More specifically for Marel, the market for food processing equipment, systems, software, and services for poultry, meat, and fish is expected to grow an average of 4-6% annually in the long term. However, we believe this market growth will be 6-8% for the next five years due to catch-up from the past five years and the powerful tailwinds in the market today.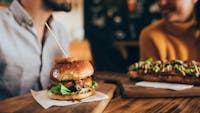 Drivers of production volume
The pandemic, labor scarcity, changing consumer behavior, and sustainability continued to significantly impact food production and accelerate the need for automation and digitalization throughout 2021.
Automation for more operational flexibility
The rising costs of labor, freight, energy, and feed will continue to challenge the food processing value chain. We continued to support our customers to navigate the challenges and opportunities arising from shifting market dynamics in our industry.
Looking ahead, food processors can still turn the situation to their advantage by investing in further automation, robotization, and digitalization. Considering that globally, consumers in 2022 will look even more carefully at what's on their plate, there are still plenty of opportunities to improve food safety, sustainability, and animal wellbeing. Implementation of these new technologies will also make processing lines more flexible and decrease dependence on manual labor.
All in all, our customers have adapted their existing plans, resulting in an increase in the number of installations and partnerships, especially in secondary processing, where more value is being created in the segment for consumer-ready products.
Rising complexity with consumer-ready products
The pandemic has accelerated consumer demand for a variety of high-quality, safe, and convenient products that can be easily cooked at home. With the exponential growth in e-commerce, processing lines require adaptability and automation to cater to rising demand for product diversity. At the same time, digital capabilities are needed to ensure food safety and traceability.
Onboarding more automated and flexible solutions with full traceability helps processors remain agile, enabling them to compete in a volatile and highly competitive marketplace. Marel continues to develop transformative solutions that give our customers the adaptability and resilience needed for success in today's environment.
Sustainable processing and decarbonization journeys
Marel prioritizes environmental protection throughout the entire food processing value chain. We provide solutions that enable our customers to meet their sustainability targets on their decarbonization journeys.
Sustainability is a criterion for all Marel innovation processes. We design highly advanced, automated equipment to harvest every gram of useful protein, improve product quality and safety, increase water and energy efficiency, and reduce CO₂ emissions. Our machines are built to last, and our excellent service extends their lifetime even further.
Digital solutions are also vital for a more sustainable future, providing data-driven insights into everything from yield to energy consumption. By delivering better process management, traceability, and a complete overview of the supply chain, our software helps customers become more demand-driven, ultimately reducing wasted resources. Accountability is also key, and automatic data collection enables measurement and reporting of sustainability outcomes.
Digitalization and the connected factory
We are now accelerating the digitalization of the food processing industry. Automation, however, is no longer about just replacing manual operations—it needs to bring in artificial intelligence (AI), too. How to interpret all incoming digital data is a challenge for man and machine.
To have greater insight into what's going on in the processing plant, sending people through the plant to inspect will no longer be enough. Our industry is moving toward a fully predictable process that will be almost independent of people. Marel's role is not limited to processing solutions but will extend to the digital aspect on top of the processes.
The digital engine, an Internet of Things (IoT)-edge device that can be installed on each Marel machine, ensures that we can look remotely at the customer's computer screen to monitor the processing plant. For example, if there is an upcoming problem such as a drop in performance, our Innova IMPAQT software allows us to notify the customer before it even happens.
We've been actively building on our software capabilities, and digitalization is the next step in transforming food processing. In the coming years, we'll be able to automate, digitalize, and robotize processes even further, piece by piece.