Poultry is one of Marel's three key protein industries. We are the global market leader in poultry processing equipment, systems, and services for broiler, turkey, and duck processors worldwide. Marel's Poultry division contributed EUR 639 million in revenues in 2021, or 47% of total revenues, translating to an EBIT margin of 14.3%.
The consumer value of the poultry market is estimated to be around EUR 400 billion, while poultry processing equipment sales are estimated at around EUR 3.6 billion.
Marel's acquisition of Poultry Machinery Joosten (PMJ) in 2021 positioned us as the only provider of full-line solutions for duck processing globally. At the time of acquisition, PMJ had about 40 employees and its annual revenues were around EUR 5 million. The acquisition is already a success with our customers and has been fueling organic growth in terms of new sales into the duck market.
We develop new products in close partnership with our customers to supply food processors with solutions to challenging market demands. As with all Marel innovation, our products launched in 2021 have been designed to promote sustainability by making the most of our planet's precious resources.
The eviscerator is the heart of the primary process, a truly essential component and a critical factor in determining product quality. For this reason, the introduction of Marel's new Nuova-i eviscerator is an important milestone for the industry.
For many years now, our research and development team has been innovating techniques to make our automated solutions ever more intelligent. This not only means that our systems helps processors make informed decisions—our solutions are also becoming decisive, self-adjusting elements in achieving optimal performance while reducing labor dependence.
This was our starting point when developing Nuova-i. Unlike traditional purely mechanical eviscerators, it's designed as a digitally controlled, flexible machine, with a human-machine interface touchscreen and remote access. In this light, the Nuova-i eviscerator can be seen as a real breakthrough.
The new Nuova-i eviscerator may look like a standalone machine but is in fact a connected device with added intelligence and functionalities, which extend deeply into the digital field. Internet of Things (IoT) and artificial intelligence come together in Nuova-i. The programmed, self-adjusting settings result in adaptive, data-driven processing, so that despite variations in supply, production remains consistent and very predictable.
Nuova-i can monitor its performance in real-time at unit level, allowing the evaluation of each unit with the prospect of immediate improvement if performance is not as it should be. This results in precisely managed evisceration, ensuring the highest possible performance with less operational input.
Once programmed, any operator without specialist skills can use the touchscreen to set the machine. This is an opportunity for processors to become less dependent on trained and skilled staff, while simultaneously producing a better and more consistent end-product.
Besides having their fillets inspected for bone contamination, poultry processors are also keen to automate quality inspection. The IRIS FI (Intelligent Inspection and Reporting Selection Fillet Inspection) camera offers just such a visual quality assessment. Because of its ability to detect defects such as bruises, fat, and skin, IRIS FI plays an essential role in supplying food of the highest quality.
A typical fillet line features a deboning system, trimming station, and bone detector. Additionally, IRIS FI offers the option of establishing visual quality. Installed after the trimming station, it can check in real-time whether trimmed fillets on the conveyor belt at that moment meet quality requirements. For this reason, IRIS FI is an excellent tool for quality assurance.
IRIS FI can be combined with Innova PDS (Product Distribution System) and a fillet distribution system, which sorts products and sends them to the appropriate destination in line with customer demand. Trimmers could miss a slice of fat or cut off too much, leaving an odd-shaped fillet. Such products are not wanted in a retail tray and should be sent to a different destination.
Consumer demand for convenience food products continues to rise. At the same time, quality and cost remain key considerations. Marel's new RevoPortioner 1000 uses innovative low-pressure forming technology and an enhanced 1,000 mm processing width to help meet these challenges head-on.
Volume and efficiency increase significantly thanks to the combination of wider 1,000 mm (40″) forming and higher speed. The RevoPortioner's innovative technology ensures that products are always consistent in shape and weight across the entire belt width. Improved air release also optimizes ejection from the forming drum, ensuring unmatched texture and integrity.
The simplicity of the RevoPortioner 1000 reduces its footprint when compared to a two-machine set-up producing similar volumes, thereby saving a considerable amount of valuable factory floor space. This adds up to a significant reduction in waste, energy, and resource consumption, meaning that processing is both more environmentally friendly and highly economical.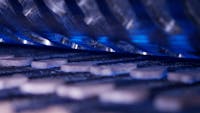 The poultry industry is moving towards a so-called 'dark factory.' Also known as 'lights-out manufacturing,' this is a method of industrial production characterized by end-to-end automation, enabling production without direct human intervention at the production site. You can virtually switch off the light. People only enter for cleaning or maintenance. For Marel, the first signs of a dark factory are the Nuova-i eviscerator and IMPAQT.
Accelerated implementation—a success for IMPAQT
In 2021, changed circumstances brought forward certain developments, IMPAQT software being an example. IMPAQT (Intelligent Monitoring of Performance, Availability, and Quality Trends) is an enhanced, Marel-ized version of OEE (overall equipment effectiveness) software for primary poultry processing.
Marel's steps in digitalization showed our customers the direction our industry is going. Several pioneering customers immediately embraced IMPAQT. These customers already know they need a product for converting data into information, and information into action. They realize they need digital help with decision-making to take the load off the planner or maintenance engineer.
Other customers may not be convinced at first sight by IMPAQT's capabilities. Once the program is up and running, however, we've found that they can no longer resist repeatedly looking at their dashboards to check performance of their primary process. If so desired, we can propose calling the customer proactively if performance drops, or offer to make a good analysis of the past few months. Results from IMPAQT trigger a dialogue based on data, which is good for helping increase the customer's overall performance.
IMPAQT also helps achieve sustainability goals because it helps processors efficiently use the total capacity of their processing lines, preventing waste of energy, water, and raw materials.
Marel will build an IMPAQT data center in Boxmeer in the Netherlands, allowing us to optimize support for a growing number of customers. This will ensure their future on the digital journey, as our experts can analyze figures in much more detail, showing that Marel is ahead of the pack in this digital area.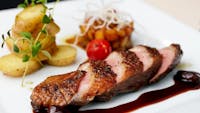 Acquisitions
Smooth integration of PMJ
Duck and waterfowl processors around the world can benefit from the joint forces of Marel and PMJ. PMJ is a welcome addition to the Marel portfolio. At the time of acquisition, PMJ had EUR 5 million in annual revenues and around 40 employees. PMJ concentrates entirely on duck and goose processing. Their systems feature advanced duck-specific technology. PMJ's duck eviscerator offers its own unique technique and a level of performance, which is complementary to Marel's existing portfolio.
The first sales followed immediately after the PMJ acquisition, for example projects in Russia and Turkey. With the combined knowledge and skills of the two companies, Marel now has the flexibility and innovative power to supply the global duck market with the highest-quality sustainable systems and aftermarket service. Together with PMJ, Marel will now introduce digitalization to duck processing.
In China, duck meat makes up about a third of the poultry industry's turnover. This market has enormous potential, and Marel is ready to play its part. In Asia many processes are still performed manually. Automation needs to develop. The transition to an automatic process is, however, about to happen. The acquisition of PMJ has come just at the right time for Marel to become Asia's dominant supplier of duck processing equipment.
Several partnerships with customers have resulted in the realization of poultry processing plants, which are ready for the future and tailored to the requirements of that particular region.
Aurora set to lead with industry firsts in Latin America
Marel was already the main equipment supplier for Aurora's pig processing and water treatment plants in Brazil. Having secured a new order for poultry processing solutions, Marel will now become the preferred equipment supplier for four Aurora poultry plants in Guatambu, Erechim, Maravilha, and Tapejara in Brazil. In addition, Aurora Coop and Marel agreed to install Brazil's largest prepared foods greenfield in Chapecó. The project will be a Latin American benchmark for both technology and production volume, with a capacity for processing more than 20,000 kg of final product per hour.
These projects illustrate how Marel has succeeded in responding to the needs of its customers by growing alongside them, moving up or down the value chain into new processing stages, and exploring expansions into new markets and even across proteins.
The poultry processing plant at Guatambu will be the showpiece of the four, becoming the pilot plant for Industry 4.0 in Brazil. It will feature two parallel poultry processing lines, each with a capacity of 12,000 bph. One of the lines will be equipped with Innova PDS full product distribution software as well as advanced IMPAQT software for identifying production losses and improving daily efficiency. This will be the first IMPAQT in South America. The IRIS FI inspection cameras in primary processing and selection lines are the first IRIS FI cameras to be installed in Brazil.
Atria commences cutting-edge greenfield project
As Northern Europe is a mature poultry processing market, there aren't many opportunities to install a completely new greenfield poultry plant in this part of the world. With its new project in Nurmo, Finland, long-standing Marel partner Atria is offering just such an opportunity. It will be a state-of-the-art factory with a processing capacity of 15,000 birds per hour (bph).
It is also a milestone for Marel in terms of new technology. Marel will install its full scope of systems and solutions from live bird handling to packing, bringing to Atria the absolute latest in technology.
Like Marel, Atria focuses on responsible food production, striving to achieve a carbon-neutral food chain while respecting sustainability and animal wellbeing. The Nurmo facility will be the perfect example of high-tech processing and sustainable food production.
Ulybino collaboration gets off to a successful start
The Ulybino project in Russia is the first chapter in the success story of Marel's acquisition of PMJ and shows that we have been following the right strategy. It's the first-ever installation of PMJ's duck evisceration line in Russia, confirming the collaboration is really working. Together with Marel's sales network, PMJ's additional knowledge has meant that we can now handle a project of this size, something we couldn't do before. United, we can offer a more attractive portfolio.
Ulybino wanted to upgrade its duck processing process to a higher capacity, using a advanced automation to produce higher-quality products. The focus was on the evisceration process because that's where the most could be gained. Duck evisceration is a specialist job, and Marel's evisceration portfolio meets Ulybino's plans exactly.
In a noteworthy move, Ulybino bought this complete evisceration line without making a single reference visit, as travel was impossible due to the pandemic. Presentations and videos, showing our installed base at leading duck processing plants during several online meetings, were persuasive enough to close the deal.
Sustainability in the poultry industry
Our customers in the poultry industry are continuously looking for ways to operate their processing plants more sustainably. We see it as our duty to help them minimize their resource use and emissions by embedding environmentally sound principles in everything we do, We take great pride in developing solutions that enable our customers to create value in a safe, sustainable, and responsible manner.
Bell & Evans—a sustainable partnership
As a vertically integrated poultry processor, Bell & Evans is an industry pioneer in chicken raised without antibiotics, and a US leader in humane animal wellbeing standards. The new 411,500 square foot chicken harvesting facility, which opened in December 2021 in Fredericksburg, Pennsylvania, has been designed to focus on animal welfare and environmental sustainability.
Marel supports Bell & Evans' efforts to advance sustainability practices throughout the value chain. Such a commitment to sustainability is no longer merely nice to have; it is a necessity to operate as a responsible food processor now and into the future.
Bell & Evans is embracing sustainability in various ways. One example is using Marel's ATLAS live bird handling system, the most humane and sustainable live bird handling system in the world. Thanks to its design, ATLAS saves many truck movements, reducing its CO₂ footprint. At the same time, it provides a stress-free journey from farm to factory.
A second way Bell & Evans embrace sustainability is by chilling with air instead of the water used by most North American processing plants. Marel's advanced air chilling techniques will save millions of gallons of water each year compared to water chilling.
Apart from the processing aspect, sustainability is also largely about utilities. Of the water used at Bell & Evans' sites, 41% will be reused daily. The new facility in Fredericksburg will be powered with 55% waste heat and reduce carbon emissions by 55%.
Rabobank is financing the new facility with the first Green Loan to US poultry. The plant has been built according to Green Loan Principles, as it contributes to the achievement of global environmental objectives and adheres to the principle of doing no harm.
Customer story
End-to-end turkey solutions at Prestage Farms
US processor Prestage Farms is co-operating with Marel to construct a reference greenfield turkey processing facility in Kershaw County, South Carolina. For Marel, this is the largest turkey project to date. It is a significant step in our strategy of aligning our turkey portfolio with changing markets. Prestage Farms is the culmination of Marel's project becoming the reference for the North American turkey industry.
The new processing plant will feature an end-to-end Marel set-up with multiple lines, from de-feathering to deboning and inspection, with a total capacity of 6,000 turkeys per hour. The plant is expected to open by the end of 2022.
This continues Marel's journey of providing an increasing number of full-line integrations in the US, consistent with previous projects with Bell & Evans and Costco. Marel is recognized as a supplier that is able to take end-to-end responsibility for quality and efficiency. Prestage Farms chose Marel as its leading partner for the greenfield turkey processing plant as we are the only party that can meet this demand.
Innovative strategic partnerships
Through strategic partnerships, we can fill application gaps in the value chain and accelerate product innovation and development. To ensure value creation through partnerships, we team up with partners that are best-in-class in their field, to work on collaborations that are beneficial for both parties.
TOMRA and Marel: A partnership of pioneers
In recent years, Marel has teamed up with TOMRA, the global leader in vision technology and a trustworthy and knowledgeable partner in several fields. The FATscan analyzer, which utilizes high-end interacting spectroscopy technology and measures VIS Near Infrared light, is an example of a Tomra development that has now been integrated into the Marel full line offering.
A closer strategic partnership between TOMRA and Marel has shortened the time to market. Here both companies are bringing their expertise to accelerate the development of the Spectra, Marel's revolutionary inspection solution for soft contaminants in poultry fillets, to the market.
Spectra foreign material detection
Spectra promises to be a real revolution for the food processing industry. It is a high-performance in-line solution for detecting plastics and other soft foreign materials in deboned poultry meat.
Spectra features innovative technologies, such as near-360° hyperspectral imaging—the same technology used by NASA for space exploration and establishing what a distant planet's atmosphere is made up of. Now that same visual technology is going beyond the capabilities of the human eye and being applied to inspect food products. It enables Spectra to scan both sides of a fillet's surface, detecting and discarding every trace of plastic or other soft contaminants.
Marel's SensorX has already proven to be the industry standard for detecting bone and other hard contaminants. Now, the new Spectra inspection concept demonstrates our continued dedication to providing the best possible solutions to secure food safety for consumers and protect our customers' reputations.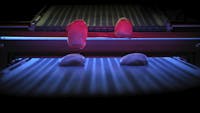 Market trends and growth drivers
With the world regaining its dynamics again, the global poultry protein market is expected to show the first signs of stabilization during 2022. However, many drivers of change—higher input costs, transition to more sustainable protein, biosecurity, avian influenza, and COVID-19—will remain.
The outlook for 2022 remains positive, with ongoing strong demand and further increases in trade volumes expected. Recovery of the foodservice segment will, however, keep facing headwinds. Inflation is having a higher impact on the foodservice channels than on retail.
Most regions will enjoy profitable conditions or perform at breakeven levels. The reopening of economies in Europe and the Americas will help the market recover and boost global trade. In the US, broiler supply is expected to rebound while turkey producers should see improved demand. In Brazil, growth in poultry production will continue. China will remain a key export market for Brazil. Europe's poultry market is expected to recover gradually from pandemic-related disruptions. Avian influenza is expected to remain a challenge, although the EU will be able to export more poultry products in 2022. In China, low pork prices are leading to lower demand for poultry. Led by Thailand and Vietnam, poultry production in Southeast Asia is expected to grow in 2022.
Global production and trade trends
Globally, production of chicken meat stayed flat in 2021 while trade shrunk by 0.5%. However, 2022 looks more promising with both production and trade expected to rise by 1.8%.
While the US continues to lead the market with a fifth of the global production, Brazil reclaimed its spot as the second largest producer in 2021 and is expected to hold that position in 2022, followed by China.
Brazil continues to be the world's leading exporter of chicken meat, accounting for 31% of the global trade, while Japan continues to be the largest importer.
Global chicken production and trade
CAGR 2018-2022f: 2.1% for production and 1.7% for trade
Source: USDA Foreign Agricultural Service (2022, January update). Chicken Meat Production and Trade. Retrieved from: https://apps.fas.usda.gov/. Note: Figures for 2021 are estimated (e) while figures for 2022 are forecast (f).
Largest chicken producers
2022 forecast (outer) compared to five years ago (inner)
Source: USDA Foreign Agricultural Service (2022, January update). Chicken Meat Production. Retrieved from: https://apps.fas.usda.gov/