Software built with the future in mind
Marel is a leading global provider of innovative digital solutions that add value to food processing around the world. We are positioned to remain in front as we enter the new frontier of industrial technology by rolling out a connected smart factory that has the potential to reshape the production of food.
Connectivity is the cornerstone of our digital journey—connecting with people, connecting software and the factory floor, and connecting to different companies and parties. We're focused on developing digitalization and connectivity offerings that can underpin a future of sustainable, affordable, and healthy food for the whole world. Our advanced solutions will transform food production in ways that will benefit food processors, people, and the environment.
Data has metamorphosed from the file cabinets to being a key enabler of real-time decision making and value creation. Our software portfolio makes it possible to realize unprecedented benefits by collecting data from fully connected machines, lines, whole factories, and multiple systems, and storing that data in a hybrid-cloud infrastructure, where it can be shaped and analyzed.
The hybrid-cloud implementation is important because it does not require an internet connection. By utilizing cloud features, our customers unlock new value. The seamless integration of software with our benchmark mechanics, in concert with data-driven insights, set the stage for proactively controlling equipment and processes from end to end across industries.
We remain the digital partner of choice for food processors. Our proprietary Innova Food Processing Software has the largest installed base in the industry. With our smart factory rollout, we are creating a complete digital architecture that increases production speed and uptime; improves performance through yield, quality, and safety; and addresses value-chain requirements including production planning in a pull-based market.
Our future-oriented offerings promote a stickier customer base, higher customer engagement, amplified recurring aftermarket revenues, and greater share of wallet.
The Marel digital objective
The Marel digital objective is to be the digital partner of choice for the food processing industry, and to enable customers to sustainably maximize value creation by providing digital products and platforms for interconnectivity and optimization.
The introduction of digital transformation will change the industry. The Marel smart factory can monitor the entire food production process; this encompasses reception, manufacturing systems, operators on the floor, and distribution. By taking advantage of cloud functionality, the smart factory can even compare performance across different factory sites operated by the same customer.
For example, by supporting the seamless flow of data sharing across the value chain, a smart factory can detect critical issues or anomalies in a timely fashion, forecast failures with high accuracy, and identify underused production capacities.
In these ways, smart factories seek to achieve marginal gains and employ data to continually optimize return on investment. By connecting the factory floor to the digital world, our customers will be able to create new value in a sustainable way. They may even be able to offset some of the impact of supply chain disruptions.
The advantages are far-reaching. By accessing machine data at scale, Marel will be able to employ predictive analytics to anonymized, aggregated data in the cloud platform from the collective of customers, and apply artificial intelligence (AI) and machine learning to enhance service offerings, accelerate innovation, and inform market strategy.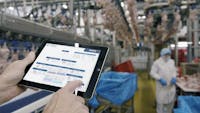 Building blocks of the digital platform
The Marel smart factory relies on a combination of various equipment, technologies, and digital offerings deployed over time to create a connected facility. To enable cloud connectivity to machines, Marel developed the digital engine, an Internet of Things (IoT)-edge device that can be installed on each Marel machine, providing a secure connection from the machine to the cloud.
The digital engines, combined with the hybrid-cloud infrastructure, are the genesis of a scalable delivery of unmatched functionality. They will be available on a number of Marel machines in 2022. The next evolution is moving several of today's Innova on-premise software solutions to the hybrid-cloud platform.
Our product families—a connected series of food processing applications—apply the most advanced thought leadership and emerging technologies to the tasks of improving performance, ensuring safety, and managing complexity.
Marel is developing new features and functionality in four product families, including:
Planning and optimization
Promote best practices in operational decision making, such as assigning raw material or scheduling production, based on the circumstances of supply and demand.
Food safety management
Enable quality and safety control measures on the factory line, the rigorous adherence to local regulatory and retail requirements, and the continuous collection of traceability details across the value chain to minimize recall.
Performance management
Benchmark and analyze data related to factory processes and employ proactive measures to increase productivity and reduce downtime.
Production and logistics control
Connect multiple machines together to work as a single entity with centralized data collection and analysis. Manage the supply chain encompassing incoming raw materials, production, and dispatch of finished goods.
In the near future, we will be offering software on a subscription basis using the software-as-a-service (SaaS) licensing and delivery model. Customers will implement our software remotely via a secure digital platform with instant access to upgrades. They will be able to take advantage of the most up-to-date features in a seamless, integrated experience.
Planning and optimization
For food processors, planning and optimization involve making the most effective and profitable use of raw material, energy, and labor to accurately fulfill orders in a demand-driven market. The production planning tool on our roadmap employs a 360° assessment of value-chain information to enable a real-time overview of supply and demand.
Customers are eager to adopt this offering as it has the potential to transform the industry, as processors will gain control and agility in orchestrating factory operations to meet production needs.
Safety regulations, known as food safety and quality assurance (FSQA) mandates, are the guiding principles of all food processing methodologies. Marel offers Innova solutions that integrate quality assurance into factory floor processes.
We use a localized compliance framework that takes into account the regulatory and retail requirements particular to customers and their supply chains. These tools help customers safeguard their licenses to operate, reduce waste, and drive sustainability.
Traceability is the backbone of FSQA and can make the difference between the withdrawal (not putting the product on the market) and a recall. To fulfill the promise of digital data for the purposes of FSQA, Marel offers a number of software solutions. All Marel components integrate complementarily within the ecosystem, and talk to each other across all factory floor processes.
Marel provides customers with a range of Innova solutions for monitoring operations, i.e. factory equipment, and managing key performance indicators (KPIs) including yield, throughput, uptime, and giveaway. Once production benchmarks are established, it becomes possible to set criteria for meeting targets, to measure progress, and to address deviations.
These offerings can be used to control individual machines, providing actionable insights for improving that device; in the same manner, they can combine and analyze data for a whole line of machines. Across the factory, and even across multiple facilities, data can be assessed and coordinated in the service of informing production planning and driving business strategy.
Production and logistics control
With production control software, processors can seamlessly connect multiple machines together across the value chain to work as a single entity. These flexible and modular production solutions help ensure data continuity, verify integral processing steps, and streamline factory operations.
As one example of production control, a new solution for the pork industry empowers processors to capture end-to-line production data and gain control over the entire primary process. Processors can define business rules that govern the way products are channeled through the factory lines. A similar offering for the poultry industry features tailored automation tools for flock management, veterinary inspections, quality grading, and weight registration.
As for the efficiency of the Marel customer's logistics, our software helps facilitate the flow of products through a plant and informs the organization's operational solvency, i.e. cash flow. A number of Innova components address logistics activities across the factory.
At raw material reception, the processor applies Innova software capabilities to the task of receiving and gaining control over raw material stock reception. To meet the needs of raw materials inventory, the next logistics stage, processors can take advantage of rotation optimization tools that cut down on incidents of loss or product expiration. Raw materials inventory is the bridge between receiving and processing.
During processing, raw material changes form. Processors can reliably manage productivity on individual processing lines by capturing data and viewing it through reports and dashboards.
At the finished goods stage, processors make use of the packing and labeling software to register products in inventory. Operators can take advantage of tools that aid in fulfilling orders and palletizing products accurately.
The same can be said for the finished goods inventory stage of logistics. When using inventory software, workers can use scanners to move inventory, pick orders, and conduct dispatch activities. For the order picking stage, they can verify that products are reserved and allocated to the right customer.
The next logistics steps utilize software for staging finished goods for shipment, loading the truck, and delivering shipment documentation to the carrier. Logistics solutions feature built-in reporting tools and can integrate with third-party systems.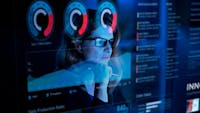 Processors can employ Marel platforms to enable a seamless and continuous connection between the production floor and the software that optimizes production. Today we have two platforms.
Innova software, including mission-critical functionality, runs on server hardware. The architecture supports modular upgrades and conventional lifecycle management. Upcoming are predefined full-line solutions, where customers can access plug-and-play standardized implementations from a central repository. Furthermore, the platform will provide standard data APIs to connect to both proprietary and third-party reporting systems.
As time goes on, food processing companies are consolidating and acquiring brands to scale and build name recognition. To unite multiple sites or to synthesize a single site, we're moving toward offering a hybrid-cloud implementation, where mission-critical functionality runs on-premises, and can run independently from the internet connection. Put simply, the hybrid-cloud platform runs partly on the factory floor, where necessary for latency and reliability reasons, and partly in the cloud to make use of the cloud's scalability and cost-effectiveness.
This hybrid functionality, on-premises and on the cloud, work seamlessly together and support each other to offer the complete solution. Customers can then tap into cloud opportunities such as machine learning and artificial intelligence.
The hybrid-cloud platform combines the best of on-premise control with analytics in the cloud. We're including capabilities to secure Marel's future growth. This deployment can incorporate turnkey integrations of future acquisitions.
Marel software is designed to ensure that processors can forge seamless connections between solutions on the factory floor, and collect valuable data for optimization throughout production. Customer testing and feedback are crucial in our software product development, and we continuously roll out improvements that support processors' needs.
Machine connectivity with SmartBase
We are introducing SmartBase, a complementary offering to Marel equipment that makes it connectivity-ready and part of the smart factory. A digital engine with Internet of Things (IoT)-edge device capabilities is installed in each Marel machine, and provisions secure connection to an Azure-based cloud infrastructure.
The digital engine is a cloud-connected application platform that runs on Marel's machines and hosts all applications that don't require hard real-time execution. This includes human-machine interface (HMI) applications, device control, administration, and data distribution to other machines and to the cloud. It also acts as an intermediary between the machine's controller and the outside world.
The first application that runs on the digital engine is the data collection for SmartBase, which is Marel's application for monitoring machine health, with add-ons for performance. The digital engine collects the data from the machine on which it is embedded on-site and streams it to the cloud, where the SmartBase application displays the data in dashboards.
By connecting machines, this information is organized into a standard data model, making it possible to access key metrics and identify ways to improve the production process. Interconnected machines and processes are linked by moving localized data to the cloud, where it's analyzed and presented in real time as actionable insights.
Through the dashboards, processors can monitor machine technical health data and basic production information. By adopting this solution, they are empowered to proactively apply upgrades and maintenance measures. Data analysis can identify areas for improvement and pinpoint problems before they occur, thereby avoiding damage and reducing costs.
Innova Primary Pork Processing Software
Marel processors can use this solution to manage the primary pork process and maintain precise control from reception to cool room inventory. They can establish a foundation for controlling quality during primary processing by capturing data that gives a clear overview of an operation, all while achieving full traceability.
With Primary Pork, processors can structure the behavior of their operations beyond the confines of tribal knowledge. It becomes possible to orchestrate the movement of products through the factory based on customized business rules.
Regulatory compliance—the necessity of adhering to local laws and laws native to anywhere in a supply chain—is one of the biggest challenges of food processing. With sophisticated Marel traceability software, processors can accurately capture detailed information, which is essential for establishing the quality, safety, and provenance of finished goods.
Over the years, food processors have seen a dramatic increase in government and consumer demand for transparency about products and practices. A digital traceability system is vital to efficiently meeting regulation standards, managing recalls, and coordinating inventory. The software can also be leveraged to mitigate disorder in the supply chain.
Marel has partnered with SafetyChain in North America to deliver the first fully integrated enterprise-grade FSQA solution designed for protein manufacturers. SafetyChain is the respected provider of the leading FSQA platform, with tools for helping to establish compliance, safety, and quality for process manufacturers. The cloud-based offering solves FSQA challenges in food safety, quality management, and supplier management with a single platform.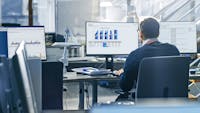 The sustainability perspective
Marel develops solutions with sustainability and societal impact in mind. Our efforts include ensuring food safety and quality control with a full audit trail, reducing CO2 footprint as measured through resource use, and eliminating food waste by optimizing raw material allocation. Moreover, we are sourcing farm-to-shelf traceability by linking every step of the production chain, as well as providing remote service offerings that eliminate fly-in, fly-out.
Our Software KnowHow user conferences, which entered their fourth year in 2021, attract hundreds of Innova users in Europe and North America. These are important events for Marel, bringing our digital innovation to life and strengthening our partnerships with customers through active engagement and feedback.
The 2021 Software KnowHow user conference for Innova food processing partners in Europe gave customers a chance to gain vital information about our software. Participants acquired vital insights at training sessions, watched product demonstrations, met Marel experts, and shared questions and feedback. The conference was recommended for all Innova users, IT managers, CIOs, business analysts, innovation managers, quality assurance managers, production managers, and digitalization managers.
Software KnowHow North America
At the user conference for Innova food processing partners in North America, hosted in early December 2021, customers had on-demand access to curated content in six immersive tracks: connectivity, security, food safety, product launches, the Marel roadmap, and training resources. The Marel Vice President of Software, Hjalti Thorarinsson, a thought leader in artificial intelligence, presented a keynote and addressed on the topic of trust and transparency in deploying a hybrid-cloud solution with end-to-end connectivity.