Fish is one of Marel's three key protein industries. We are a leading global supplier of integrated systems and advanced standalone processing equipment for whitefish and salmon, both farmed and wild, onboard and ashore. Marel's Fish division contributed EUR 161 million in revenues in 2021, or 12% of total revenues, translating to an adjusted EBIT margin of 5.6%.
Marel management continues to target medium and long-term EBIT margin expansion for the Fish division, with an ongoing focus on reaching full-line offering across farmed and wild whitefish and salmon through innovation and mergers and acquisitions.
We recently acquired Curio and Valka, and invested in Stranda Prolog. These acquisitions will further accelerate the innovation roadmap to close certain application gaps to reach full-line offering for whitefish and salmon both wild and farmed. The combined platform will also further unlock synergies in terms of cross- and upselling, market penetration, and gradually expanding species coverage.
The consumer value of the fish market is estimated to be around EUR 200 billion. More pertinently for Marel, fish processing equipment sales are estimated at around EUR 1.8 billion.
By improving processes, we improve end-products. Thanks to our cutting-edge innovations, our customers are maximizing their raw material, decreasing their dependence on labor, and efficiently adapting to the ever-changing market demand. In 2021, we introduced new solutions that revolutionize processes in the fish sector.
Automated tilapia filleting
Marel reached a significant milestone in 2021 by entering the tilapia industry with the innovative FilleXia. Thanks to its revolutionary filleting automation, processors no longer have to worry about the need for highly skilled workers, employee turnover, and production costs. Human impact and contamination risks are minimized, while raw material utilization and productivity are maximized. The result is a consistent and affordable tilapia product.
The design and principle of the FilleXia was based on four generations of filleting equipment in salmon and our strong heritage of developing automated, reliable, and reputable salmon filleting solutions that deliver exceptional products and satisfied customers.
Packing perfected with robotics
Robotics are catapulting fish packing to an entirely new level of optimization and efficiency.
The RoboBatcher Box combines state-of-the-art batching software with innovative robotic technology to pack fixed weight boxes so close to the target that giveaway is minimal. The plastic film applicator automatically places a plastic film in the box to prepare for ice. The IceDoser then automatically dispenses the ice based on the specific weight and shipping information found on the label of each box. Finally, a lid applicator automatically closes the box before palletizing.
This level of automation benefits processors by not only significantly decreasing labor costs but also improving food safety, reducing giveaway, and virtually eliminating human error that may disrupt a production line.
Deheading accuracy with vision
The new and improved version of the Salmon Deheader MS 2721 V features enhancements that deliver a higher yield, increased capacity, improved ease of use, and a more hygienic design.
A new vision camera detects the fish's optimal cutting position, and a new screen with a real-time position indicator guides the operator to the fish's placement on the preloader. The machine's cleaning has been improved by redesigning several of the key components exposed to water and fish parts. The design of the MS 2721 V also ensures good ergonomics and easy and safe operation.
The world's first automated kingfish filleting machine
The Filleting Machine MS 2730 is one of our best-selling machines, and our innovative engineers, in partnership with our customers, have adapted it to become the world's first automated kingfish filleting machine.
Until now, kingfish filleting has been a physically demanding task that has relied heavily on the expertise and alertness of operators, and cost processors a significant amount of money, resources, and time. The Kingfish Filleting Machine MS 2730K automates this labor-intensive job by efficiently processing up to 25 fish per minute to deliver high-caliber fillets with improved yield and throughput.
Hands-free salmon slicing
The need for automation continues to increase across the globe, and this is reflected in the number of ongoing projects for salmon retail pack slicing lines, such as our new Retail Pack Slicer I-Slice 3400. Launched in 2021, the I-Slice 3400 automatically, accurately, and efficiently slices and batches fixed weight retail packs of fresh salmon to fit every pack's size and weight down to 50 g. The result is an exceptional pack presentation with minimal giveaway.
The I-Slice 3400 meets consumer demands for new salmon products by making smaller package sizes and producing shorter slices with little to no human contact. With an option to upgrade to a multi-angle slicer with a cutting angle interval of 8°-72°, the accuracy and flexibility of the I-Slice 3400 are unmatched.
A new wave of digital technology is reshaping how service is provided to food processors, and COVID-19 has accelerated the momentum. Marel is at the forefront, connecting machines and delivering valuable data to key stakeholders with SmartBase—a new cloud solution that shares machine health and performance information to users and service operators on any device.
Uptime is increased with new and improved data about machine performance and health, and customers feel more at ease with the enhanced remote support and valuable data that SmartBase provides. SmartBase is currently available for the FleXicut and SensorX and is in development for more machines in 2022. This is just one step in our digital journey, and we see data as the key to improved service for our customers.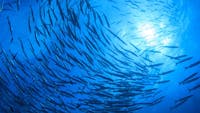 Acquisitions
Complete solutions in fish processing
In 2021, Marel continued to take clear and strategic steps toward our ambitious growth strategy in the fish industry by acquiring and merging with like-minded companies driven by innovation, marketing, and external growth. These acquisitions strengthen Marel's product range of complete solutions and increase cost-effectiveness and margins for Marel Fish.
The acquisitions of Curio and Valka, and investment in Stranda Prolog, have broadened the range of Marel's total solutions and sped up product development for this exciting and rapidly growing market.
Through a merger with Curio, we now have complete solutions for whitefish. We acquired the remaining 50% of the shares of Curio to accelerate further synergies and market penetration. A 40% purchase of Stranda Prolog and strategic co-operation give Marel access to high-tech solutions for the salmon industry that fit well with our company's product range. Finally, the acquisition of Valka will accelerate innovation across Marel's key industries and further strengthen the product range of complete solutions and increase economies of scale in order to serve customers even more effectively.
For Marel, 2021 was a productive year in the fish sector. Fish processors that have invested in smart factories have established market leadership through increased automation, throughput, and yield. Among our largest projects were collaborations with Coinrefri SRL, Búlandstindur, C.Vale, Skinney-Thinganes, Salten N950, and Brim.
Partnership with Coinrefri
Coinrefri SRL, one of Peru's leading frozen fish exporters, invested in Marel solutions to diversify their product offerings and increase the value of their end products distributed to the retail and hotel, restaurant, and catering sectors. With a steady increase in demand since 2016, Coinrefri invested in equipment from Marel's grading, batching and weighing, and portioning lines to automate the processing and final packing operations of the Paita and Tacna plants.
"The COVID-19 pandemic has strengthened demand for ready-to-eat and ready-to-cook products and portions of fixed weight. We needed to become more efficient in the portion cutting process," says General Manager, Francisco Takahashi Iguchi.
At the Paita plant, where giant squid, hake, scallops, and mahi mahi are processed, the needs were in secondary processing and packaging, the agility of the lines, and control of giveaway. Marel's SmartLine Grader, two Compact Graders, and a TargetBatcher were installed, in addition to bench scales and checkweighers with metal detection. At the Tacna plant, where trout from Lake Titicaca is processed, demands arose at the beginning of the line in the primary processing of fresh fish.
Partnership with Búlandstindur
Búlandstindur, located in East Iceland, is one of few fish processors in the country that processes both whitefish and farmed salmon. With the recent installation of a whole fish grader for farmed salmon, they are processing 90-120 tons per day and packing up to 20 boxes per minute, while Innova Food Processing Software provides traceability.
Elis Gretarsson, General Manager at Búlandstindur, says that this new process solution has revolutionized the factory, especially by automating grading and packing. "With this new processing line, the toughest and most monotonous jobs in salmon have been eliminated, and jobs have developed into monitoring the processing and system," says Gretarsson.
C.Vale is a prominent player in the food industry and one of the largest tilapia processors in Brazil. With the recent purchase of Marel's newest solution FilleXia, C.Vale is automating the filleting of tilapia with a focus on the quality of byproducts such as belly-meat recovery. Innova software enables tracking of the raw material from receiving to packing to improve quality in the entire value chain.
Together, this high level of innovation and automation ensures optimal use of raw material, less water usage, lower CO₂ emissions, and data collection to measure progress. It also increases C.Vale's flexibility to handle both fresh and frozen products.
Marel and C.Vale share similar values and commitment to sustainability, animal wellbeing, and food safety, which tightens their partnership as they collaborate. "Our co-operation with Marel enhances our commitment to sustainability where we put focus on optimal use of natural resources," says Alfredo Lang, CEO of C.Vale.
Partnership with Skinney-Thinganes
In recent years, Icelandic fish processor Skinney-Thinganes has invested considerably in Marel solutions to advance the technological development of the company's facility with both equipment and software. In April 2021, the catfish processor invested in a SensorX with infeed, a RoboBatcher Box, and an automated packing line. Innova software connects all systems centrally and gives managers an overview and control of the processing.
"We are at the beginning of a technological revolution, and people are realizing—bearing in mind that we are on the threshold of the fourth industrial revolution and automation—that we need to rethink catfish processing and such investments are likely to start that journey," says Strategic Assistant to the CEO at Skinney-Thinganes, Gudmundur H. Gunnarsson.
Gunnarsson adds that with the recent long-term investments in Marel processing equipment that covers the entire value chain, Skinney-Thinganes is increasing productivity. "It is now possible to process higher quantities and a more diverse range of products efficiently. The ideology is not only to increase quantity but also to increase the value per kilogram because, as we know, the resource is limited," he said.
An integral part of the increase in automation and efficiency of the catfish processing facility has been the close collaboration between Skinney-Thinganes and Marel to further develop new technologies for the industry. "Starting this journey has in fact opened up endless new opportunities, and for this to be successful, it is crucial that the machine operators work closely with Marel on the equipment development," says Gunnarsson.
Partnership with Salten N950
Norwegian salmon processor Salten N950 installed Marel's Whole Salmon Grading and Distribution system and Innova software in their primary processing facility in 2021. Prior to the automated and digital additions for their whole fish processing, grading and packing were done manually. 
With increased farming and fish production in Norway, automating processing was the only way for Salten N950 to keep up. Thanks to Marel's innovative grading solution and Innova's valuable data monitoring, Salten N950 has since increased its processing capacity to 100 fish per minute and packing 20 boxes per minute, with fully traceable products.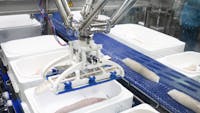 Sustainability in the fish industry
The sustainable use of raw materials, water, and energy is a top priority for the fish processing industry. Through our significant innovation investment and development of digital solutions, we aim to drive greater overall efficiency and sustainability from catch to table.
For more than 40 years, Marel has been helping fish processors reduce processing time and increase automation, leading to improved food safety worldwide. By automating tasks that are otherwise done manually across the fish production line, food safety risks are minimized by eliminating the chance of human contamination. Building equipment that is accessible and easy to clean is also one of the many ways that we ensure safe products for consumers.
Another is X-ray technology that enables fish processors to detect and reject foreign materials. Offering high levels of consistency, accuracy, and quality, this type of technology is far superior to the manual inspection processes that preceded them. A fine example of this is Marel's SensorX—a proven industry-standard solution for bone detection that automatically finds bones and other hard contaminants in fish, enabling processors to deliver consistently safe, high-quality products.
We believe that every gram counts, and decreasing food waste is essential to ensuring sustainable fish processing. We work toward decreasing waste and increasing raw material utilization through automation and digitalization. Our goal is to maintain the highest possible food quality and drive greater overall efficiency and sustainability from catch to table by moving toward demand-driven production.
Simply put, automation reduces human error and increases optimal cutting, trimming, portioning, and packaging to reduce food waste. Our range of automated fish processing machines, solutions, and services increase yield, utilize as much raw material as possible, and create valuable byproducts that reduce food waste throughout the entire supply chain.
Catch-to-table traceability
Consumers demand full transparency and traceability from their food. Not only do they want to know the nutritional value of their fish, they also want to know the origin and the safety standards involved in their journey from sea to supermarket. Traceability is integral to Marel's innovation for developing solutions and software so that fish processors are equipped with the data needed to meet and exceed expectations.
Our Innova Food Processing Software provides processors with full traceability of products throughout the entire value chain. This valuable information gives fish processors the ability to withdraw or recall products that have been identified as unsafe or incorrectly labeled, contributing directly to food security, increased efficiency, and improved nutrition for consumers around the globe.