Global trends demand innovation
Innovation has always been at the very heart of Marel. Inscribed in our culture as one of our three core values, it is integral to our company DNA. Innovation is instrumental to our vision of transforming the way food is processed and is vital in our quest to provide solutions that deliver the highest-quality sustainable and affordable food. Our efforts are supported by an annual strategic investment of 6% of revenues in research and development.
In 2021, we brought 27 transformative solutions to the market and further improved our existing solutions. Our product development is informed by the major trends we observe: increased need for automation and digitalization, a focus on sustainability, and the demand for integrated line concepts. Marel's global reach and technical platforms have enabled us to continue delivering new products despite the limitations presented by COVID-19.
Our strength in engineering has continued to show its worth during the semiconductor supply challenge, which we have handled with great efficiency. Alternative solutions have been moving at high speed to deliver quality to our customers on time. We have found that this has strengthened longer-term internal developments, reinforcing our unity and knowledge sharing.
In 2021, Marel Innovation continued to explore new ways of working. An interesting example is the new recent investment in a 3D printer capable of printing metal objects. The 3D printer enables reduction of material use and makes faster prototyping possible, among other advantages.
Innovation leads the way in a changing market
Food processors must always be adaptable to changing consumer behavior to keep up with shifting market demands and supply consumers with sustainably produced high-quality food. This means adopting new technologies, new approaches, and new processes at an increasing pace.
Marel is playing a pivotal role in this transition to support our customers' agility as they cater to changing consumer demands across various market channels, such as e-commerce, foodservice, and traditional supermarkets.
The pandemic has been a catalyst for innovation. Market volatility, processing challenges, capacity constraints, and labor limitations increase the drive to be more flexible in serving the end consumer, accelerating the need for automation, including robotic solutions and artificial intelligence (AI).
Consumer demand for more convenience offerings and foodstuff variety also contributes to the need for digital solutions to handle the complexity of a growing number of stock-keeping units (SKUs) and product combinations.
We continuously identify and investigate potential strategic partnerships, such as our partnership with vision technology pioneer TOMRA, and accelerate the innovation roadmap and transfer of technology from recent acquisitions.
Looking ahead, automation, digitalization, line solutions, and sustainability are the overarching themes in Marel's innovation efforts.
Automated replacement for manual operations
We will continue driving greater automation and digitalization in food processing, and work toward having an automated replacement for nearly every manual operation in a plant. This will lead to improved returns on investment and increased consistency and yield.
We've taken significant steps in delivering new robot applications to the fish industry in 2021. These include the RoboBatcher launches and the establishment of the Marel Automation Center to accelerate new developments to the market. The development of automation platforms, such as the DeboFlex platform in Meat, also enables more and quicker developments across the group.
From the automation perspective, all Marel industries are drawing on automation in the three process areas of primary, secondary, and further processing. Vision and inspection technology leadership is a focus area. Our innovative solutions such as the Marel Spectra takes the step from detecting hard contaminants like wood and steel (using our SensorX technology) to detecting soft contaminants like plastics. This greatly reduces the need for staff to perform visual and manual checking, while improving our customers' value-add by achieving better quality and food safety.
Marel's digital platform will continue to be the food processing industry's first choice for bridging software and hardware, and our digital solutions will give customers the automated processes and actionable insights they need. More predictability and flexibility of operations will enable customers to shift from supply-driven to demand-driven production, with the inherent positive impact on sustainability being top of mind.
In 2021, we made solid progress in our roadmaps for the next connectivity products across all industries. We've embarked on a digital journey that applies to the solutions in our current installed base, the products under development, as well as the higher value products in Marel's purely digital portfolio.
We launched our new SmartBase cloud solution to provide our customers with a new level of connectivity, more actionable data, and optimized production performance. We connected several of our key customers worldwide to SmartBase, facilitating valuable feedback for scale-up of this solution in 2022.
We foresee that our customers' increased focus on automation will drive a need for increasing digital connectivity throughout Marel's portfolio. A key to unlocking these challenges lies in our ability to provide fully integrated line solutions that minimize manual labor and enhance our digitalization offerings.
Consequently, Marel has initiated several product development programs specifically addressing innovative line concept solutions, in close co-operation with current and potential customers. We address the basics of line integration—standardization and modularization—in these programs to improve costs and lead time to market.
An added benefit of line integration comes from our ongoing product digitalization, where centralized decision-making in line solutions will optimize customers' value creation even further.
Accelerating the innovation roadmap
One of the ways Marel Innovation addresses current challenges is to accelerate the innovation roadmap and enable transfer of technology from acquired companies from one protein industry to another. This enriches the Marel innovation and product portfolio.
An example is our acquisition of TREIF, where we continue to develop our bone-cutting and bone-in capabilities. We also hold regular design meetings to discuss knife technology, software, and mechanical information, and share information between our technical centers where we store our acquired knowledge. This approach creates the synergies to introduce the best technologies in new developments.
Another example is the recent full Curio acquisition, which is in line with Marel's strategic objective to be the one-stop shop for food processors looking for high-tech solutions, software, and services. The full acquisition brings Marel closer to becoming a full-line provider, and enriches our Fish portfolio with whitefish deheading and filleting solutions. With the Curio acquisition we have closed a strategic value chain gaps both for primary and fillet processing of cod-like whitefish species. We are also continuing the innovation-oriented and commercial integration of Curio equipment that is under development.
Marel Innovation furthermore increased its focus on research and partnerships with universities, collecting all research activities in a new Marel unit, Global Portfolio Management. This step keeps us in close touch with the current generation of cutting-edge research and the derived food related applications within our industries. As an example, we have joined the mEATquality research project. Ongoing co-operation with universities enables a focused research approach that supports Marel's ongoing innovation activities and provides answers to questions raised by our innovation community.
New innovation launches in 2021
In partnership with our customers, in 2021, we worked on key projects developing and installing advanced processing solutions. Multiple initiatives across our business units progressed well, with major launches including Marel Spectra, DeboFlex, and RoboBatcher Thermoformer, among others.
While we keep taking important steps toward further standardization inside our product portfolio and internal processes, digitalization remains firmly in the spotlight and is a focus area where we've stepped up our investments significantly since 2018. We also continued to develop Marel's automation capabilities during the year, with an emphasis on artificial intelligence and advanced vision technology in several development programs.
New products strengthen the portfolio
In total, we released 27 products and upgrades for sale in 2021—a testament to the robustness in execution and delivery that Marel Innovation stands for. A selection of these is highlighted below.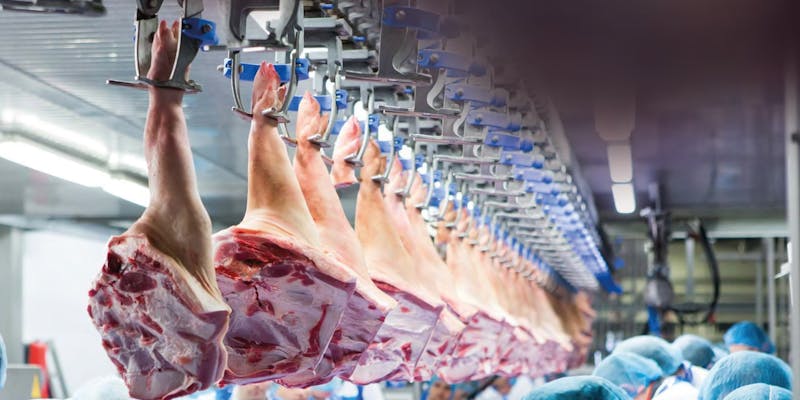 DeboFlex
The DeboFlex is an advanced in-line, modular, and flexible system for hanging deboning of pig fore-end, middle, and leg. Hanging deboning brings many benefits, including higher capacity and yields, increased 'knife in meat' time, and improved shelf life. The DeboFlex is ergonomically designed and provides better logistics of primal products.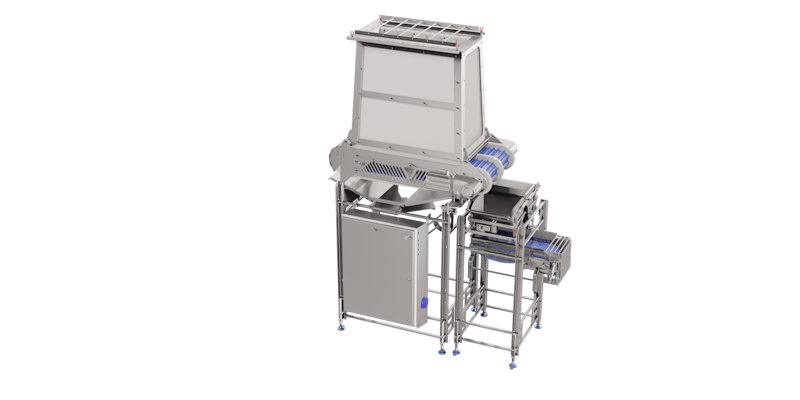 IceDoser
The IceDoser is an innovative machine that automatically weighs and dispenses precise quantities of flake ice into fresh-fish boxes, ensuring that coverage is uniform and excess weight is kept to an absolute minimum. This precision significantly reduces transportation costs, particularly when airfreight is involved.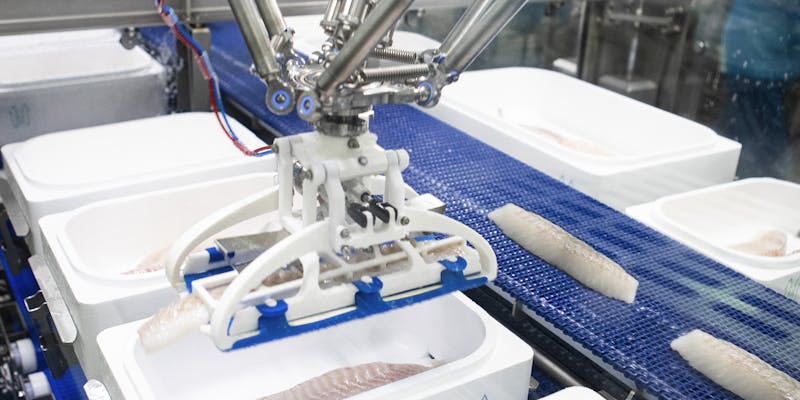 RoboBatcher Box
The RoboBatcher Box packs and styles whitefish fillets and whole loins into boxes directly after cutting. It does this according to precise fixed-weight or catch-weight requirements and a predefined styling pattern. The system uses a unique combination of innovative robotic technology and state-of-the-art batching software.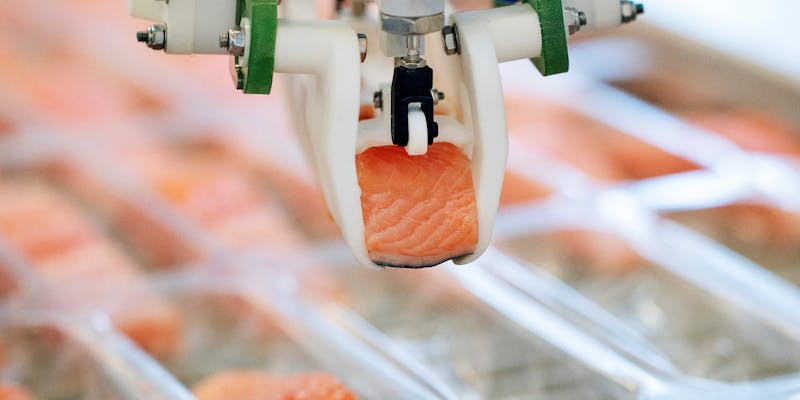 RoboBatcher Thermoformer
The RoboBatcher Thermoformer packs and styles fish portions into thermoformer pockets directly after cutting. The system uses a unique combination of innovative robotic technology and advanced batching software to create fixed-weight retail packs so close to target weight that giveaway is always kept to an absolute minimum.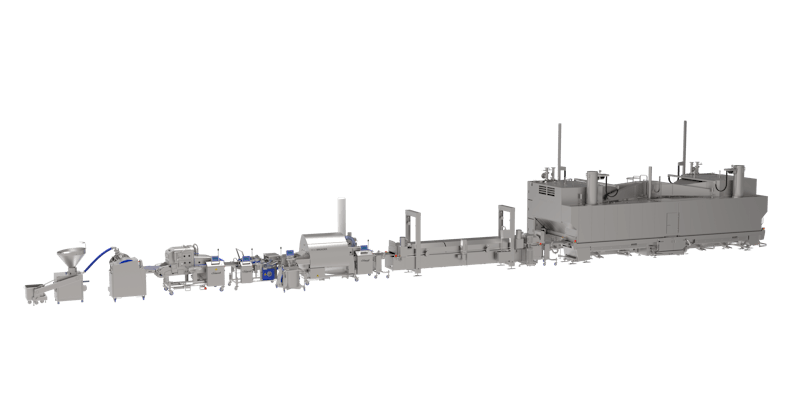 Convenience Line Software
Convenience Line Software collects and analyzes data from a processing line to give full insight into production. This Innova software lets processors take complete control to realize the full potential of their line and optimize profitability. It enables producers to consistently meet product specifications and maximize equipment uptime.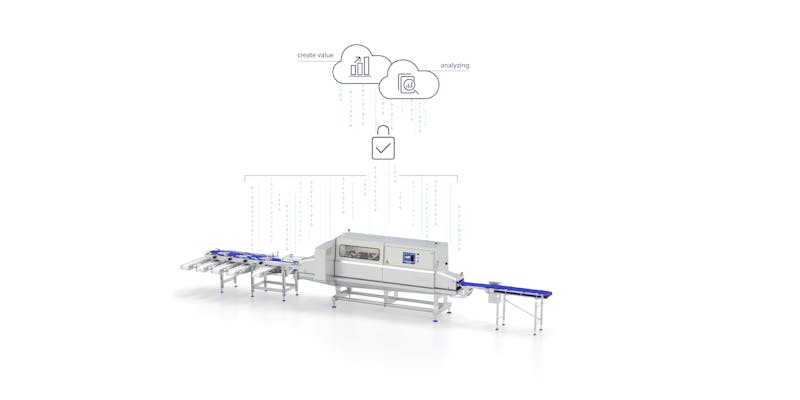 SmartBase
With SmartBase, processors have access to vital machine insights that can help optimize production and reduce downtime when service is required. SmartBase collects real-time machine data and sends it to a cloud, enabling any user with access to see valuable information and use it to make informed production decisions.