Close customer connections worldwide
Marel is global because our customers are global. Our global reach is the fabric through which we weave deep, long-term partnerships that result in better solutions for our customers and the market.
We have customers in more than 140 countries, operating mainly within the poultry, meat, and fish industries and ranging from large international leaders to local processors. Supporting their needs, our Global Markets and Service team is made up of around 2,800 employees spread across more than 30 countries. We cover global functions for a unified customer approach, while maintaining close customer connections through our locally based sales and services.
In 2021, we worked tirelessly to grow our global and local capabilities and advance our internal technological landscape and online digital touchpoints. We also increased our sales and service staff throughout the year, ramping up frontline efforts in our operational regions of China, Asia and Oceania, and Latin America to act on opportunities in these markets. As such, we've also opened two new demo centers: one in Campinas, Brazil, and another in Shanghai, China.
Two years into a pandemic that hit with a stronger force than anyone could have imagined, our global reach has shown great resilience. End consumers worldwide rapidly changed their preferences and buying behavior. As restaurants and hotels closed down, the food processing industry had to start producing more for the retail and prepared foods market and had to adapt to new markets driven mainly by e-commerce and digitalization. In these ways and more, the pandemic has accelerated our need to be at the forefront of technological solutions to maintain strong service delivery and customer support.
Marel's diverse standard equipment portfolio continues to form the basis for fulfilling our customers' evolving needs and requirements—even when a pandemic forces them to change their production almost overnight. We also work closely with customers to ensure they understand the value of signing a Marel service contract, giving them the benefits of planned maintenance and data-driven improvements for optimized performance.
Together with our customers, we effectively transform the way food is processed and take essential steps in realizing a more sustainable business model. In 2021, we reduced our carbon footprint as we minimized travel, while at the same time increasing performance and speed of service locally. These efforts all serve our aim of growing aftermarket revenues from 40% in 2021 to 50% by the end of 2026, with the addition of software to revenues from services and spares.
Marel's sales and service network is the key to the company's unique global reach. Our strength in serving customers worldwide relies as much on what we offer: value-enhancing solutions, local knowledge, and installation and service expertise, as it does on who we are: persistent innovators, reliable partners, and dependable service technicians.
We are organized into strong regional leadership teams in six regions covering the world: North America, Latin America, South Europe together with the Middle East and Africa, North Europe and Russia, China, and Asia and Oceania. Within Sales and Service, we have more than 2,200 regionally based employees, speaking a multitude of languages with customers all over the world.
Through our local presence, we ensure that we are close to our customers and support them quickly and efficiently. We help them optimize their operations for safe, sustainable, and affordable food production through strong collaboration between our local team and global industries and functions.
Our strong local presence is also key to understanding the market, our customers' customers, retailers, and trends in the food industry. As such, we make sure that our global industries stay at the leading edge of innovative solutions for the food value chain.
Investing in key growth markets
As part of our strategic aim to support customers globally, we are further investing in fortifying our global sales and service network to ensure that we are where our customers need us. In particular, we have increased skilled sales and service employees in our regions of China, Asia and Oceania, and Latin America. Having more feet on the ground in key growth markets has already translated into an improved ability to support our customers locally, which has in turn supported business growth.
We see significant opportunities to develop new markets and grow together with existing customers. Recent efforts in this area include building upon opportunities within the duck processing industry in China, and expanding our offerings to process other species, such as giant squid and mahi mahi in Latin America.
Note: Percentages represent change in sales and service FTEs per geography in 2021.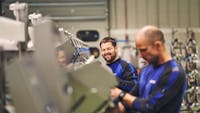 Connecting and engaging with customers
In 2021, we continued to engage and meet with customers across the globe, both in person and online through our Marel Live platform.
Trade shows have traditionally been an important way for us to exchange knowledge and nurture customer relationships locally and globally, and we are happy to have attended more of these in 2021. We also managed to meet our customers at 22 physical exhibitions and 231 demo sessions around the world, all while respecting pandemic safety measures.
Spending more time with customers
Marel has the largest installed base in our industry. We continuously strive to maintain close partnerships with our customers, helping them secure reliable and high-performance production throughout the life cycle of their equipment.
In 2021, our 800 dedicated field service engineers increased their customer facing time by 38% compared to the previous year. We also increased our remote customer support to achieve faster and more efficient support to keep production running smoothly at customer sites.
Maintenance remained the core of securing reliable and optimal production for our customers through both preventive and corrective measures throughout 2021. At the same time, we offered a wide range of services connected to spare parts and long-term service contracts, in tandem with the rollout of enhanced connectivity of our equipment, improving data collection and productivity management.
Strengthening our demo center coverage
Marel opened two new demo centers in 2021: our fifth demo center, in Campinas, Brazil, and our sixth demo center, in Shanghai, China. These new demo centers are integral to our strategic aim of growing our business in these markets, where we currently have a smaller network of reference plants on hand.
Our demo centers worldwide bring food processors together with Marel experts to experience the full potential of our equipment, integrated systems, and software in a hands-on environment. Customers can attend product demonstrations and trial our equipment using their own raw materials, as well as attend training seminars, ShowHows, and other live and online events.
Progress Point Latin America
Progress Point Latin America officially opened on 22 July in Campinas, Brazil. This new 4,700 m² facility can accommodate around 130 employees and up to 200 guests at a time. The location will improve our connectivity with Latin American customers and strengthen our global access. It will also make it easier for our customers in Latin America to access and experience our solutions in action, and for Marel to be the technology partner for customers in the region.
On 8 November we opened Progress Point Shanghai. This new demo center is an important part of Marel's strategy to expand and strengthen business in China. The new 1,600 m² facility features highly advanced infrastructure and a collaborative work environment for customers and employees. It is an engaging platform for our customers to interact with frontline sales and service and discover how they can use Marel's equipment and software solutions to become more efficient, sustainable, and profitable.
Virtual Progress Point Copenhagen
In 2021, we also built a virtual version of our Progress Point Copenhagen demo center, providing the advantages of online events. We can now pair the virtual experience with live events and equipment demonstrations for a rich experience for customers near and far.
Our online Salmon ShowHow on 1-12 February and our Poultry ShowHow on 18-19 November both used the virtual Progress Point Copenhagen to engage with customers. In addition to broadcasting online demos of equipment live from Progress Point Copenhagen, we offered special VIP sessions, group webinars, and online Q&A sessions. We connected multiple Marel locations with customers from Europe, the US, Latin America, China, and Oceania.
For the Poultry ShowHow, we launched the revolutionary new Nuova-i eviscerator using our virtual Progress Point for an interactive experience. Guests had the option to control the human-machine interface (HMI) touchscreen for the Nuova-i and see the settings change accordingly—all in a virtual environment.
Continuing with the Marel Live platform
As the world shut down in 2020, we quickly introduced our Marel Live platform to ensure that we could continue to show our equipment and solutions to customers safely, conveniently, and sustainably. It proved to be a highly successful solution, and so we continued to deliver our online events, ShowHows, equipment demos, and customer training sessions using Marel Live throughout 2021.
Among many examples, in November 2021 we hosted more than 200 customers in an online Meat VIP event showcasing our latest developments in meat cutting equipment. We connected three sites in Europe and showed customer after customer what we can offer, avoiding the travel-related carbon footprint, expenses, and pandemic restrictions while ensuring a complete experience.
We further enriched the event by welcoming customers into our virtual Progress Point Copenhagen. The event provided access to a broader Marel team of industry experts in the same sessions, regardless of geographical location, and instantaneously provided us with valuable customer feedback.
Online presence makes it easy to do business
Our new marel.com website and related digital platforms, such as our online store shop.marel.com, have now been live for a little more than a year. In 2021, we added six new languages to marel.com for a broader global reach: Chinese, German, French, Spanish, Portuguese, and more.
We want it to be easy to do business with us, and with more languages live, we see steady growth in local traffic. This traffic is resulting in more language- and country-specific web leads, filling a demand for interaction on the local level. Visitors viewing non-English content increased by 92% during the year—a strong indicator that our customers prefer to do business with us in their local languages, whether in person or online.
With a user-friendly interface, search engine optimized (SEO) page structure, maximum server speed, and clear calls to action, marel.com is performing above expectations and converting valuable leads into signed contracts. Our intelligent website design enables us to reach our target audience and offer them the solution they need, right when they need it.
When remote support matters
The pandemic has highlighted the importance of our local presence to our customers. Many of our customers faced continuous challenges with adapting their processing operations to sudden changes in the market dynamics during this period. Marel Service proactively reached out to them and made sure to stay in close contact through these uncertain times, often pairing a local service engineer with an expert based elsewhere.
Successful installations using remote support have ranged from installing forming equipment in Vietnam, to poultry line upgrades in India, to retail greenfields in New Zealand, Brazil, and China. In cases where a local service engineer has limited experience with a specific piece of equipment, we can use real-time remote assistance and effectively place the relevant expert next to them, providing as much guidance as required.
Beginning in 2020 and continuing throughout 2021, we have shipped dozens of augmented reality (AR) headsets to our service people so that more of our customers can benefit from this technique. The expert who is not on-site can take over the headset camera via remote control. An additional benefit is that the local engineer gains new skills via immersive, interactive on-the-job training.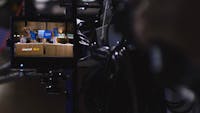 Digital innovation in service
Digital solutions and connectivity are crucial steps in perfecting our customer service journey. With digitalization and the use of data, we see great opportunities not only for remote support but also to enhance our process optimization services. We currently have more than 40 digital product offerings, and the list is only getting longer as we respond to our customers' requests.
Marel is continuously working on expanding our service portfolio to improve the way we support our customers. To this end, we have launched digital services where we combine software to collect, analyze, and display operational data. We then connect this with our process knowledge and work with our customers to optimize their production. We are connecting machines, and with this connectivity, the evolution of Industry 4.0, and the Internet of Things (IoT), our customers get more insights into their operational and technical performance by utilizing current and historical data.
We know that machine connectivity is key to driving efficiency, optimizing performance, and preventing unplanned downtime on the processing line. Our digital platform presents data clearly, enables quick decisions, and ensures that our customers are able to deliver their orders faster. It also allows for scalability, reduced complexity, and improved uptime—three key objectives that our customers are asking for.
As such, Marel customers can achieve next-generation operational excellence, seamlessly connecting multiple machines to work as a single entity and enabling simple management and remote operations of the line and processing steps. In addition to Innova, our full production control software, we are offering end-to-end connectivity and reliable remote access in a highly secure cloud environment.
Machine connectivity with SmartBase
In 2021, we launched our SmartBase cloud solution to reap the benefits of machine connectivity. It enhances our ability to support customers and gives processors access to vital machine insights that can help optimize production and reduce downtime when service is required. In this way, we are moving from preventive maintenance to predictive maintenance.
SmartBase collects data from a machine in real time and sends it to a secure hybrid cloud so that any user with access—be it an operator, a manager, or a Marel service representative—can see the information from anywhere, at any time, and make informed production decisions. The solution also offers end-to-end traceability and serves as a central control for all of manufacturing.
In 2021, we rolled out SmartBase for our FleXicut and SensorX solutions, and we are developing the same connectivity for more machines. This industry-leading solution is already connected to several of our key customers' equipment worldwide.
Together, our customers and Marel technicians can analyze and find the source of challenges and service the solutions without fly-in/fly-out of a big service team. This provides our customers with more sustainable and flexible services and faster response times when critical and possible. We will continue to pioneer more advanced maintenance solutions, allowing customers to maximize factory uptime and performance, and optimize all services and maintenance—before downtime impacts the performance of the processing line.
Global Service and Spare Parts
We are proud that our service team consistently delivered proactive service to our customers throughout another challenging year of the pandemic. Marel has more than 1,700 local service employees based in more than 30 countries. Our innovative service offerings, industry-leading technologies, and strong customer partnerships give our customers a competitive edge as food processors.
Investing in a secure supply of spares
To ensure timely delivery of our solutions and services to customers, we took early measures at the beginning of the pandemic to nurture strong relationships with our current suppliers and build new relationships with alternative suppliers for spare parts. We built up spare part safety stock and inventories in strategic places. We also developed procedures for monitoring the global supply chain situation on a variety of parameters to be able to act in due time.
As 2021 unfolded, we followed the same track to continue to deliver spare parts and service to our customers around the world. We collaborated with Marel Innovation and Manufacturing to explore alternative solutions to the global shortages in semiconductors and microchips, as well as general supply chain challenges. With these mitigation actions, we managed to get a head start in accommodating our spare part supply chain to current global challenges. To read more on our actions in this regard, please visit the Global Supply Chain chapter.
Continuously upskilling our salesforce
In our efforts to invest in the continuous upskilling of our direct sales force, we have developed and launched various tools for them to use in their day-to-day interactions and collaboration with our customers. We have recently launched a sales enablement tool to an initial user group across industries and strategic business units. Our sales force will have a continually updated one-stop-shop for portfolio content (marketing and sales relevant information) in their customer interactions.
The platform enables Marel sales and marketing to access all relevant and up-to-date content online and offline. This digital platform is completely aligned across industries and strategic business units to make sure we achieve the full benefits of our impressive portfolio, spanning multiple proteins including alternative proteins. We will continue to implement this to the rest of the frontline sales force in 2022.