Marel's corporate governance consists of a framework of principles and rules, including its Articles of Association and the Guidelines on Corporate Governance issued in July 2021 by the Iceland Chamber of Commerce, Nasdaq OMX Nordic Iceland, and the Confederation of Icelandic Employers, which are accessible on the website of the Iceland Chamber of Commerce. For more details please refer to the Corporate Governance Statement issued for 2021.
Marel follows the Nasdaq ESG reporting guidelines and has been a Nasdaq ESG transparency partner since 2019. The Nasdaq ESG guidelines are aligned in most cases with the Global Reporting Initiative (GRI), the UN Global Compact, the Task Force on Climate Related Financial Disclosures, and the Value Reporting Foundation Sustainability Accounting Standards Board standards. We present our sustainability performance in line with the principles as described in the explanatory note to Marel's 2021 sustainability disclosure as we believe it represents Marel's sustainability performance as best as possible until the global sustainability reporting landscape transitions toward homogenization of the various standards.
We are guided by three pillars of responsibility: social, environmental, and economic. Each is equally important and guides our decision-making processes at all levels.
Marel is a leading global provider of advanced processing equipment, systems, software, and services to the poultry, meat, and fish industries. We have a global reach with a local presence in more than 30 countries, with sales and service engineers serving customers in more than 140 countries.
The food processing industry has grown and evolved considerably since our humble beginnings. Throughout the many changes—and challenges—over the years, our vision remains a constant.
In partnership with our customers, we are transforming the way food is processed. Our vision is of a world where quality food is produced sustainably and affordably. We are guided by three core values: Unity, Innovation, and Excellence.
Marel has steadily been improving its environmental, social, and corporate governance (ESG) profile since 2015. Working toward becoming a part of the solution, we are setting leading standards in the food processing industry for its customers, employees, shareholders, suppliers, and retail consumers.
The past year was a time of ongoing turbulence and radical improvements when it came to sustainability and reporting in particular. During the course of 2021, Marel started its climate-related disclosure journey, implemented a more robust governance structure around sustainability related issues, committed to setting a science-based target, and announced its first medium-term sustainability program, which is fully in line with Marel's 2026 growth plan. Further, we incorporated ESG into the short-term incentive plans for management remuneration.
Elevating sustainability performance
Marel's sustainability roadmap is designed in co-operation with our customers, employees, suppliers, innovation partners, and other key stakeholders. In 2019, we reached out to more than 160 stakeholders for input to create further clarity around the most material sustainability topics for Marel. Through the roadmap, we can focus our efforts toward elevating sustainability performance by focusing on four key themes.
Launch of first sustainability program
Marel is committed to becoming net zero by 2040. To support our long-term commitment, we have launched a five-year sustainability program aimed at steering both Marel and the industry onto a more sustainable path, through ambitious environmental, social, and governance targets.
Marel's medium-term sustainability program is fully in line with the company's 2026 growth strategy and complements our long-term climate ambitions as we set a science-based target in 2022 in line with the Paris Agreement. These targets and achievements are reviewed regularly and progress on our ESG performance will be communicated more frequently going forward.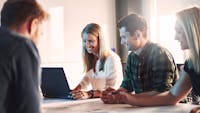 We embrace our role as a critical infrastructure company in the global food industry. ESG pledges and climate targets are shaping the future of our stakeholders and industry transition where quality food is produced sustainably and affordably. We see ourselves as an enabler for our customers delivering on their sustainability strategies while positively impacting the local and global communities we engage with.
Contributing to the UN SDGs
Marel has been a signatory to the United Nations Global Compact since 2015 and a participant since 2017. Through this participation, we focus our efforts on benefiting people, the planet, and our operations by focusing on the following three UN Sustainable Development Goals (SDGs):
Goal 2
End hunger
End hunger, achieve food security, improve nutrition, and promote sustainable agriculture.
Goal 9
Industry, innovation and infrastructure
Build resilient infrastructure, promote inclusive and sustainable industrialization, and foster innovation.
Goal 12
Responsible consumption and production
Ensure sustainable consumption and production patterns.
Benefiting people, the planet, and our operations
Innovation is the primary way we make an impact and meaningfully contribute toward the SDGs. Our actions are focused around:
Environmental criteria

Circularity, minimizing food waste and food loss, reducing scarce resources.
Social criteria

These include food quality, food safety and security, and employee health and safety. Marel views innovation efforts and leveraging its technological leadership position as its primary way to contribute meaningfully toward the SDGs.
Innovation investment

Annually Marel invests about 6% of revenues into research and development of advanced and high-tech solutions, with the aim of transforming food processing.
Knowledge sharing

Marel is engaging actively with the local communities and stakeholders where we operate by seeking local participation and sharing of insights to spur innovation, capacity building, and know-how in the industry.
Partnerships

Marel has more than 25 science and technology partners to develop breakthrough solutions in sustainable food production.
Solutions

Marel creates solutions including equipment and software that reduce food waste, increase efficient resource use, minimize environmental footprint in use phase, boost yields, add recycling options, and optimize portion sizes.
Pioneering product development
Since 2017, Marel has employed a strict process framework when evaluating new products to ensure efforts are spent on progressing valuable, feasible, and usable technologies.
The sustainability scorecard seeks to address and improve material product impact while promoting animal wellbeing and areas including environmental criteria: circularity, minimizing food waste, and reducing scarce resources; and social criteria: food quality, food safety and security, and employee health and safety.
In 2021, 100% (2020: 96%) of all new innovation projects approved for further development were rated using the sustainability scorecard, beginning in the first stage, feasibility.
Life cycle analysis and product end-of-life
We design our systems and solutions with the environment in mind. In 2018, we took our first steps toward understanding the full carbon footprint of our machinery during its lifetime by performing a meticulous study of a broad cross-section of our products.
We carried out the life cycle analysis (LCA) in accordance with internationally recognized methodologies, assessing raw material extraction, manufacturing and processing, transportation, use phase estimates, as well as end-of-life/recycling/circularity. The LCA points to three key actions that Marel can take to mitigate the environmental impact of our products: (1) minimize energy consumption and water during the use-phase, (2) ensure durability and longevity of our products, and (3) reduce food processing waste.
In 2021, we finalized our seventh core cross-industry solutions life cycle analysis and its environmental impact. This allows us to better understand the full carbon footprint associated with our solutions, from design through production until end-of-life, thereby enabling our innovation team and customers to understand and improve the environmental footprint of Marel's solutions. Delivering carbon neutral solutions to our customers provides added resilience from an emissions perspective. Performing LCAs provides Marel with added possibilities when aligning with the EU Taxonomy.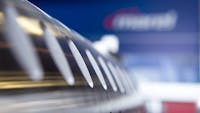 Sustainable supply chain and procurement
We are working toward creating a sustainable supply chain for our own manufacturing locations as well as our external supply base. Through our sizable annual product-related procurement spend and several thousand suppliers in our supply chain globally, we can have a considerable positive impact.
Our goal is to collaborate with our suppliers across the entire value chain to proactively mitigate societal and environmental impacts caused by the development, production, and delivery of food processing equipment and spare parts.
Sustainability is a key element of Marel's procurement strategy. In 2021, we further implemented our supplier sustainability program involving EcoVadis, an external sustainability rating provider. This forms an important step in our sustainability journey to drive continuous improvement and gain more transparency in our supply base. This new program now covers more than 20% of our product related procurement spend focusing on key suppliers.
Marel has a responsible supply chain program focusing on energy, waste management, transportation, health and safety, and social conduct in our manufacturing locations as well as in our partnerships with suppliers globally. Key initiatives in 2021 include the implementation of a global policy on the preferred sourcing of green energy for electricity that supports manufacturing locations in switching to green electricity. Moreover, we continued improving on-site waste management activities that were supported by third party waste scans.
In line with Marel's sustainability ambitions, we renewed our code of conduct for suppliers. Additionally, we have started monitoring carbon dioxide emissions from product related purchased goods as well as assessed the emission impact of different transportation modes, to support Marel's journey in reducing emissions related to goods purchased. This will further support our supplier engagement in 2022.
Sustainability governance
We engage in responsible governance with the clear objective of ingraining ESG into all of Marel's business planning and operations. In September 2020, a sustainability team was established within the corporate CEO office chaired by the Director of Sustainability and Community Engagement, supported by various business functions including Internal Audit, Supply Chain, and Finance.
The Director of Sustainability and Community Engagement at Marel chaired the Sustainability and ESG Committee during 2021, a sub-committee of the Executive Team. The Director of Sustainability and Community Engagement reports directly to the CEO and is supported by a team of sustainability professionals who support ESG goal-setting efforts, disclosure, and monitor ESG compliance, among other duties.
Information and cyber security
The increase in cyber-attacks worldwide with major financial and operational impact demonstrates that cyber resilience has become a crucial element in doing business in the modern world. Marel innovates to drive the digitalization in the food processing industry, and this requires an adequate response to maintain modern standards that include information and cyber security.
Information and cyber security are treated as a priority at Marel: It is our responsibility to maintain trust in and protect the vital food supply chain.