We take care of our people, our partners, and our customers. We provide a safe and respectful workplace that fosters diversity, inclusion, and belonging. Our employees have opportunities for further education and career development.
As a global company, we reach out to communities where we operate to seek local insights and collaboration. Together, we forge solutions to benefit everyone. We apply the highest standards at every level and do not tolerate human rights violations under any circumstances.
Our people drive the success of Marel. We provide a supportive and ambitious work environment that motivates our employees to make Marel's vision their own. We encourage further education and career development. We also offer employees a variety of in-house training courses.
Marel is a growth company. During 2021, we welcomed more than 1,500 new colleagues into the organization, most of whom joined business units in Sales, Services, Innovation, and Software. In recognizing that our people are our most important asset, we also launched a global referral program—Every Referral Counts—where we encourage and reward our own employees in supporting the growth of the organization. Looking at the future of talent, we started with an invigorated and relaunched internship scheme in the Netherlands in 2021, which we will deliver in 2022. Furthermore, we will focus on building long-lasting and meaningful relationships with colleagues and universities in the United States.
Employees in 2021
| | 2021 | 2020 |
| --- | --- | --- |
| Europe, Middle East and Africa1 | 4,777 | 4,263 |
| Americas | 1,466 | 1,471 |
| Asia and Oceania | 402 | 343 |
| Employees | 6,645 | 6,077 |
| 3rd party workers | 495 | 387 |
| Average FTEs in 2021 | 7,140 | 6,464 |
Note: 1Iceland accounts for 695 FTEs (2020: 680 FTEs).
Marel employees
Average full-time equivalents by year
Employees by geography
Average full-time equivalents in 2021
Employee engagement is key
A high level of employee engagement is key to the overall health of the organization. Since 2019, Marel has been partnering up with Gallup UK on an engagement journey, to benchmark Marel against top-performing global companies. As a result of the Gallup survey undertaken in 2020, more than 90% of all managers created an action plan with their teams to improve their engagement during 2021.
We respect that our people have responsibilities and a life outside Marel to nurture themselves and recharge. We offer flexible working, possibilities for working part-time, maternity and paternity leave, and other options to help employees find the right balance.
The talent of the Marel workforce is what makes us unique and is therefore a crucial competitive advantage. We are committed to supporting the development of our people and to helping them reach their full potential.
To this end, in 2021, we launched a new global talent management process, which focuses on our key positions, what is needed to be successful in them (knowledge, skills, experience, and behavior), who could meet these requirements, and how we can support their development. We have identified succession candidates for most key positions at Executive Team and Leadership Team level and are working on development plans to ensure succession coverage for the years to come. With a future-oriented outlook, we have assessed our employees' growth potential and asked them to register their career interests and development needs. All processes are supported by our Global HR Information System, Workday.
In 2022, we will continue to embed talent management into our ways of working and support further training for managers, HR, and employees in having meaningful career and development dialogues. Aspiring to create a transparent talent marketplace, where the 'supply' and 'demand' of talent are easy to match, we are building the right support to empower employees to drive their own careers.
Marel is a growing organization in a very knowledge-intensive industry. Continuous changes require Marel employees to develop themselves, acquire, apply, and share new knowledge. This requires a very robust learning and development approach to facilitate continuous learning.
In 2021, we developed a three-year roadmap to establish the Marel Academy. Furthermore, we established a L&D community to ensure that we have global standards and a single way of working, and always share best practices.
A global learning and development catalog was created to make learning and development accessible for everyone in the organization. Marel employees now have access to a range of high-quality, exciting learning and development opportunities through the Workday learning platform. This includes digital learning materials developed for Marel, for example a manager's toolkit and new learning content on health, safety, and the environment as well as on diversity and inclusion.
As we aim to support the development of all Marel employees so that they can excel in their daily roles, so-called learning tracks have been developed for specific jobs. Among many examples, we have developed a new train-the-trainer curriculum as glocalization makes it crucial to share knowledge and skills gained from entities—ranging from business units to our commercial regions—with our front-line employees.
A Marel Leadership Fundamental Program has been developed. Close to 150 participants were enrolled in 2021, facilitated in different languages, including Chinese, Portuguese, and English. Close to 250 participants were enrolled in the 7 Habits Program during 2021, or 1,100 participants since 2017.
Creating a culture of inclusion
At Marel, every person counts. We are committed to building a diverse and inclusive (D&I) culture, where all people feel valued and engaged, and are treated with respect, dignity, and fairness. We believe having a diverse and inclusive workforce is integral to achieving our vision. With our desired gender diversity already achieved at Board of Directors (43/57) and Executive Team (44/56) levels, we have set a 2026 ambition for greater gender diversity in middle and upper management.
We are not, however, focusing solely on gender diversity. Marel employees, prospective employees, contractors, consultants, suppliers, and customers must be treated equally and should not be discriminated against on the grounds of age, race, ethnicity, nationality, sexual orientation, gender identity, disability, mental health, neurodiversity, religious or political beliefs, financial status or class, career, marital or parental status, or on any other aspect of diversity.
We understand the value of reflecting the markets in which we operate—whether that is servicing our customers in their local languages, listening to the needs of our end-consumers, moving toward fully local management teams in our regions, or hiring and developing more diverse talent in technical roles. We hope to be a part of moving our industry toward more diversity and more inclusivity going forward.
In 2021, Marel introduced a new Global Diversity and Inclusion Policy with additional focus on inclusion and accountability. The overall objective of the policy and accompanying action plan is to build and maintain a diverse and inclusive culture, where people thrive and drive the success of Marel. The D&I policy is aligned to the updated Code of Conduct. We also trained 76% of managers globally on how they can play active roles in creating a culture of inclusion and allyship.
In 2021, as a founding member of the Nordic CEOs for a Sustainable Future coalition—created to inspire co-operative action toward the UN SDGs and the Paris Agreement in the Nordics—Marel co-authored a D&I guide From balancing gender to driving inclusion, launched on 3 February 2022.
Composition of governance bodies and breakdown by gender
2021

2020

Female

Male

Total

Female

Male

Total

Board of Directors

43%

57%

7

43%

57%

7

Executive Team

44%

56%

9

44%

56%

9

Employees

17%

83%

7,140

16%

84%

6,464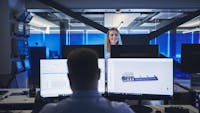 Health, safety, and environment (HSE)
We strive for excellence in health, safety, and environment (HSE), which is synonymous with good business practice, because it makes us an attractive business partner and an employer of choice. It means we can grow with confidence, knowing that risks related to the health and safety of our employees are managed.
We aspire to be known as a 'high-reliability' organization—one that delivers consistently high performance across all aspects of HSE management even in a changing business environment or regulatory landscape, or in the case of unplanned events.
Providing a healthy and safe working environment for Marel's employees, contractors, and visitors is imperative, and the company takes pride in doing this well. HSE risks concern all company stakeholders, and Marel does its utmost to make sure employees have the necessary competence, environment, tools, and instructions to perform their work professionally and safely.
A global HSE function provides support and oversight to Marel businesses in ensuring that the requirements of the company HSE policy are met and that it facilitates continuous improvements. Local management within all Marel entities is responsible for ensuring that processes and procedures are established to comply with Marel's HSE policy and local laws.
Our aspiration for zero harm
We are on a journey toward zero harm and Marel is committed to a culture of safety that applies to all aspects of our global operations, including the work performed on-site for our customers. Our goal is to create a safe environment for our employees, contractors, and visitors with the best possible health protection, the promotion of wellbeing, and the prevention of absenteeism resulting from work activities.
In 2021, 77% of all employees participated in HSE e-learning activities, created to increase awareness of key health and safety issues and what they can do to ensure that they and their colleagues return home safe and healthy at the end of every day.
Over the last three years, we have continuously reduced the total reportable injury rate (TRIR). We have noted a reduction in the absolute number of injuries over the last three years even though the number of employees has increased. TRIR has improved from 1.24 per 100 employees in 2019 to 0.91 in 2020 and 0.78 employees in 2021, indicating that the improvements we are making in HSE are working. The reporting of proactive hazard observations has improved over the last three years (2019: 2,217; 2020: 2,637; 2021: 3,527) and should be encouraged as the key to more HSE maturity and Zero Harm.
Marel's journey to zero harm
Increasing awareness of HSE has resulted in more reporting of first aid and near-miss events, allowing us to analyze trends and launch improvement actions to prevent future occurrences. Extending the ease of reporting to all areas of our business gives more employees the opportunity to highlight safety concerns and prevent them from becoming injury events.
Local and global community outreach
One aspect of Marel's social responsibility is engaging actively and systematically with the local communities and stakeholders where it operates by seeking local participation and insights.
Marel is investing in these locations for the long-term. This is good for business and helps spur innovation, capacity building, and know-how in the industry as well as among Marel's current and future workforce. By introducing new food processing technologies to these locations, Marel can have an immediate and radical effect on production capabilities, worker safety, and food traceability. One of Marel's growth opportunities is the creation of shared value through partnerships in new markets. By delivering market-altering solutions, Marel intends to have a positive impact on both general wellbeing and economic progress in all the company's markets.
Marel's focus is mainly on educational outreach in collaboration with local educational institutions and the continuing education of employees. Most Marel locations have internships and trainee programs to support talented young professionals entering the workforce in developing their skills in a professional and safe environment.
Well-designed charitable activities and social participation programs can contribute to a better standard of living and increase social stability. Marel's Charitable Giving and Social Participation Guidelines align with our pledge of corporate social responsibility. This helps Marel to align its vision and purpose with activities beyond its core business activities. Our guidelines are designed to support the company in its desire to be the partner, neighbor, employer, customer, and supplier of choice around the world. Through partnership, Marel aims to empower external organizations, our customers, and our employees in supporting the communities in which we operate.
In 2021, Marel donated EUR 250,000 to the International Red Cross, which will use the funds to secure safe water and essential services for migrants in northern Brazil fleeing armed violence and instability in the region.