Marel promotes fair trade, sustainable business practices, and long-term profitability. Marel's vision is founded on the strong belief that we can create economic value and, in partnership with our customers, have a positive social impact at the same time:
By growing and sustaining an economically strong and responsible business over the long term, guided by a clear vision, we make significant positive impact on our customers and our people, as well as the economy and society. We believe that all parties should aim for having a positive economic impact in the societies in which they operate.
Transparency, innovation, and collaboration are key. We comply with international laws, anti-corruption rules, and local regulations, and encourage our partners, customers, and suppliers to do the same.
Innovation is the primary way in which we make an impact and meaningfully contribute toward the UN Sustainable Development Goals. Annually, we invest about 6% of revenues into research and development of advanced and high-tech solutions with the aim of transforming food processing.
Marel creates solutions including equipment and software that reduce food waste, increase efficient resource use, minimize environmental footprint in the use phase, boost yields, add recycling options, and optimize portion sizes.
In 2021, Marel invested EUR 80.8 million (2020: EUR 69.1 million), or 5.9% of revenues (2020: 5.6%) in innovation to support new product development and ensure the continued competitiveness of the existing product offering.
Research and development expenses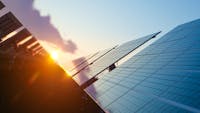 Did you know?
Building resilience and efficiency through sustainability-linked financing
In February 2020, Marel secured a EUR 700 million sustainability-linked syndicated credit facility, led by a syndicate of seven international banks. A sustainability-linked credit facility is designed to reward borrowers for delivering measurable improvements in environmental, social, and governance (ESG) impact.
The terms of the credit facility include a sustainability-linked incentive structure, where Marel agreed to meet a set of meaningful ESG key performance indicators (KPIs) that apply over the life of the loan. Marel closely monitors and manages these metrics.
The KPIs—which encompass annual reductions in Marel's direct and indirect greenhouse gas emissions, as well as gains in sustainable innovation, diversity, and inclusion—spur on sustainable practices in Marel's business strategy and global operations. Marel receives either a margin reduction or margin increase depending on the extent to which those KPIs are met.
2021 was the first year that Marel met all its KPIs. Through responsible supply chain management, procurement, and purposeful travel, Marel reduced greenhouse gas emissions by 3%, while growing revenues by 10%, relative to 2020. The sustainability-linked credit facility is a meaningful tool to integrate the role of finance into making our 2026 growth strategy and 2040 net zero ambitions a reality.
Impact through partnerships
Economic value generation
We operate a global sales and service network extending to more than 30 countries, and we produce a range of solutions manufactured in the Netherlands, the US, Brazil, China, Iceland, Denmark, Germany, the UK, and Slovakia.
Marel will continue to emphasize strong revenue growth, having achieved a compound annual growth rate of 21% since listing in 1992. One of the results of this ambition is that the economic value generated by our operations in 2021, as measured by revenues, amounted to EUR 1,361 million (2020: 1,238 million). Marel encourages all parties to contribute equitably toward the societies in which they operate.
Furthermore, we directly employed an average of 7,140 full-time employees in 2021 (2020: 6,464). Salaries paid during the year, excluding related expenses, amounted to EUR 480 million (2020: 426 million), or 35% of the economic value generated. Marel did not make use of government support or rent discounts related to COVID-19 in 2021 or 2020. If government support was provided due to local laws, an equivalent or greater amount was donated to charity by Marel.
Economic value composition
Marel's total tax footprint amounted to EUR 200.5 million in 2021 (2020: 178.6 million). Taxes paid by Marel in 2021 amounted to EUR 71.1 million (2020: 70.6 million) or 5.2% of the economic value generated.
Of the total tax footprint, 56.7% is represented by employment taxes collected borne by employees, 20.0% by employee taxes borne by Marel, 15.4% by corporate taxes and 7.9% by other taxes and duties.
Tax footprint
Anti-bribery and anti-corruption
Our company's reputation is crucial to our success. We take compliance with global anti-bribery and anti-corruption laws and regulations very seriously. The anti-bribery and anti-corruption policy adopted by Marel in January 2017 reinforces our commitment. This includes our no-cash policy, whereby payments should never be made in cash or untraceable funds.
The policy applies to all employees, officers, and directors, as well as any contractors, consultants, agents, and partners engaged in business on Marel's behalf.
We adhere to the anti-bribery and anti-corruption laws of the countries that we operate in, as well as international regulations.